Gladiator effort falls short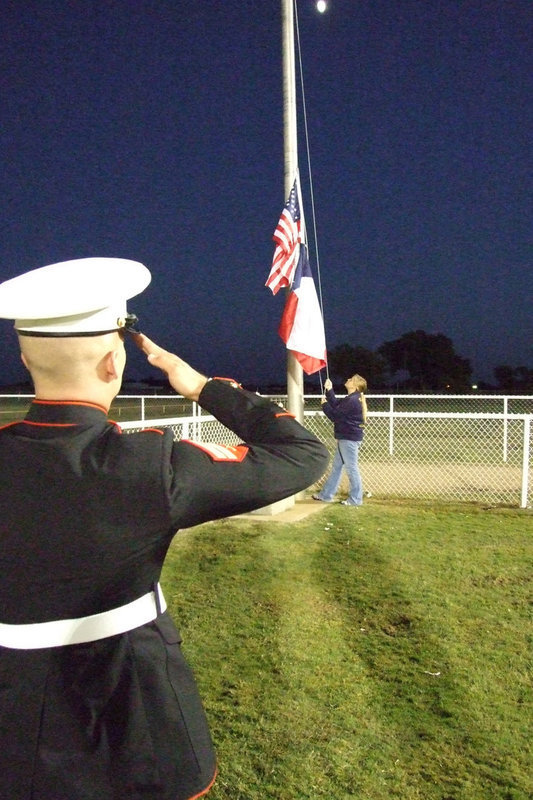 ITALY – The Gladiators looked like a different team than the one that smothered Frost two weeks ago. This week's team added a loss in their district column when the Axtell Longhorns came to Willis Field and took home the 18-13 win on Friday night. Italy was inactive last week which could have been a factor in the contest.
The Gladiator defense struggled to contain Longhorn quarterback, Weston Popham's rushing and passing game. Popham was seven of eight for 122 yards and was their leading rusher with 100 yards on 20 carries.
Italy won the toss and elected to receive. On a third and 9, Ryan Clark sacked Jasenio Anderson which forced Italy to punt. Anderson led his team with 100 yards on 20 carries and two TDs.
Axtell did not take their eyes off the goal as they drove 82 yards on 14 plays and drew first blood on a 1-yard keeper by Popham with 3:59 left in the quarter. Heath Clemons broke up a pass to foil Axtell's conversion attempt.
Both teams traded possession, but could not get a successful drive going. Under the leadership of quarterback Jasenio Anderson, the Gladiators started their next drive on the Axtell 7-yard line. With a key block by Clay Major, Anderson sprinted 41 yards down field. An Axtell personal foul penalty gave Italy another 15 yards and excellent field position. Eight plays later, Anderson scored from the 1-yard line. His kick added one to give Italy a 7-6 lead.
On the Longhorn's final drive of the half, Italy defenders, Ethan Simon and Justin Hayes stepped up and hammered the Axtell offense when it counted. Axtell was threatening to score from the Italy 10-yard line. A Popham pass intended for Jay Helleck was batted away by John Issac in the end zone. Hunter Cadell added 5 yards on two carries to put Axtell within 5 yards of the goal line. With 16 seconds remaining in the half, Hayes slammed Popham causing a fumble and Heath Clemons recovered to stop the Longhorn drive. The first half ended with Italy on top 7-6.
On Axtell's first possession of the third, a fourth and 1 turned into a fourth and 6 with a delay of game 5-yard penalty forcing them to punt.
Italy hit pay dirt again on a 3-yard keeper by Anderson to culminate an 11 play, 71-yard drive.
Less than four minutes later, Axtell found the end zone when Porter Miles scored on a 15-yard reverse to cut Italy's lead to one.
John Isaac bobbled the kick off which sent him into the end zone. He brought the ball out, dodged several defenders who pushed him back into the end zone. He headed out of the end zone again and continued to break tackles until the Longhorn defense brought him down on the 3-yard line. To add insult to injury, an Italy penalty put them on the 2-yard line. Great pass coverage by Seth Keene forced Italy to punt which put Axtell on their own 38.
The Longhorns took advantage of their great field position when Charlie Groce added 9 yards on the return. Two plays later Hunter Cadell scored on a 5-yard scamper to give Axtell a 18-13 lead.
John Issac breathed life back into the Gladiators with a 30-yard kickoff return. The momentum was short lived when Italy suffered a 15-yard loss from a personal foul penalty. Anderson hit Desmond Anderson with a 17-yard pass and then added 10 more on an option play. Anderson added 21 yards on four carries to bring the Gladiators to the Axtell 32-yard line. On fourth and 5, Anderson could not connect with Isaac in the end zone and turned the ball over on downs.
Axtell began their next drive with a 32-yard completion from Popham to Helleck. Kyle Wilkins pulled Miles down for a loss forcing the Longhorns to punt.
To chants of "Defense" from the Longhorn fans, Axtell stepped up to hold Anderson to minus 13 yards on two carries. Italy turned the ball over on downs when Bobby Dillard sacked Anderson for another loss.
The Gladiators never gave up and denied the Longhorns another touchdown. On their last possession of the game, Axtell drove 30 yards on nine carries. The determination of the Italy defense stalled Axtell on the 10-yard line, but their effort proved too little too late when the game ended with Axtell leaving with an 18-13 win.
MVP — Heath Clemons
Offense — Jasenio Anderson/Dontavius Clemons (30 and 14-yard returns)
Defense — Justin Hayes/Ross Enriquez
Hit — Justin Hayes
Block — Clay Major
Catch — Desmond Anderson
Thief — Heath Clemons
Beef — Zach Hernandez
Heart — Trent Morgan