Gladiators bring home another district win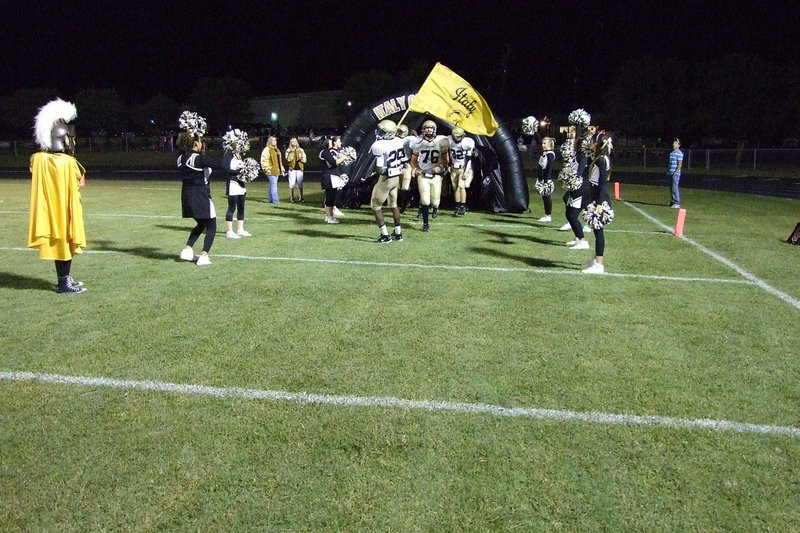 HUBBARD — Trying new plays paid off for the Italy Gladiators Friday night with a 28-8 win over the Hubbard Jaguars. Quarterback Jasenio Anderson led the Gladiators with 109 yards rushing and 163 yards passing. He hit his receivers 10 of 13 for 141 yards in the first half alone.
Italy started the opening drive with a 40-yard completion from Anderson to Desmond Anderson. Three plays later Anderson hit John Isaac with a 34-yard touchdown pass. Anderson's PAT split the uprights to give Italy a 7-0 lead.
Hubbard went three and out, but got the ball back when Garrett Martin intercepted an Anderson pass intended for Isaac. Martin was five of 12 for 43 yards.
Not to be outdone, Heath Clemons scooped up a Garrett Martin pass meant for Darnell Lang.
The Gladiators were plagued with penalties, some very costly. A Jasenio Anderson 33-yard touchdown was called back due to a holding penalty.
In the second quarter Italy added points to the scoreboard when Clay Major dodged Hubbard defenders and punched it in from the 25-yard line. Anderson PAT good. Major rushed for 87 yards on 12 carries.
The Italy defense stepped up to pressure the Jaguars from their first possession in the second half. A Martin sack by Kyle Wilkins forced Hubbard to punt. Italy went three and out, but a 59-yard punt by Jasenio Anderson put Hubbard on their own 6-yard line. Their drive stalled on the 40 and they turned the ball over on downs.
On a critical fourth and 1, the Gladiator line did their job so Anderson could pick up the first down. On the first play of the fourth quarter, Anderson hit Desmond Anderson again with a 14-yard touchdown pass. Anderson PAT added one to give Italy a 21-0 lead.
Hubbard would not remain scoreless. 12 seconds later, Jemichael Jordan took the kick off, dodged several Gladiator defenders and sprinted 46 yards untouched over the goal line. Jordan lead the Jaguars with two rushes for 48 yards. The two-point conversion by Darnell Lang cut the lead 21-8.
With 1:50 remaining on the clock, Italy would strike their last time when Jasenio Anderson broke four tackles and sprinted 43 yards into the end zone. His PAT put Italy on top 28-8.
"We tried different plays this week," said Italy head coach, Craig Bales. "Some worked and some didn't. We threw the ball well tonight. We need to work on catching the ball. If we can succeed at this we will be a strong multi-faceted team – a team to be reckoned with. I think our kids had fun tonight which is important."
Italy will face Wortham next Friday night at home for the Homecoming game.
MVP — Jasenio Anderson
Offense — Offensive Line
Defense — Kyle Wilkins/Ethan Simon
Thief — Heath Clemons/Trent Morgan
Catch — Desmond Anderson
Block — Diamond Rodgers
Hit — Jonathan Nash
Beef — Justin Hayes
Heart — Darrin Moore