Italy shows grit against third ranked Itasca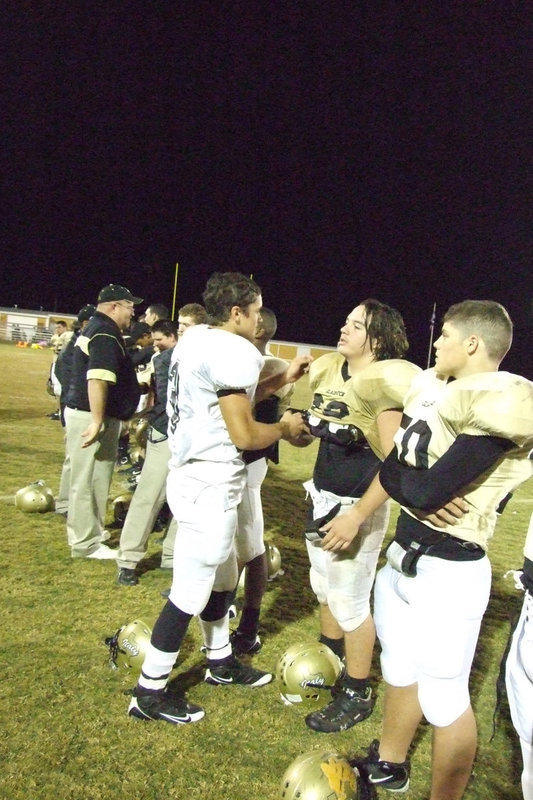 ITALY, Texas – Italy High School honored their Senior football players, cheerleaders and band members before Italy's final game of the season against the Itasca Wampus Cats. The Seniors were escorted by their parents/guardians to midfield and given
flowers. Members of the football team were also handed framed pictures which included collages of special moments from their 2008 season.
Both bands were adorned in full uniforms and played their respective fight songs as the 2008 Italy Gladiators and the third ranked team in state, the Itasca Wampus Cats, charged onto historic Willis Field.
Itasca deferred the toss and kicked to Italy to start the game. Italy went three and out on their first possession and punted. 13-Greg Mason for Itasca returned the kick 40-yards to Italy's 30-yard line, however, a clipping penalty on Itasca moved the ball back to their 49-yard line. 3-Desmond Guy turned a mishandled snap into a 44-yard dash to Italy's 7-yard line before being brought down by Italy's John Isaac. Two plays later 13-Greg Mason for Itasca fumbles and Italy's Jonathan Nash recovered at the Italy 5-yard line.
Regaining the momentum, Italy's quarterback Jasenio Anderson ran a keeper up the middle to the 10-yard line. On second and 5-yards to go, Jasenio Anderson connected with Diamond Rodgers for a 26-yard catch to the Italy 36-yard line. Then Jasenio Anderson hands to Clay Major who rumbles to the 50-yard line. The drive stalls and Italy punts it away. Unfortunately for Itasca, punter Jasenio Anderson was ran into by 12-Frank Sanchez for Itasca and Italy retained possession at the Itasca 35-yard line after the roughing penalty with 6:30 left in the first quarter.
The Gladiators pick up a first down after a catch by Heath Clemons down to Itasca's 31-yard line. Then Jasenio Anderson fakes to Clay Major who makes a nice block and springs Anderson to the 25-yard line with 4:25 left in the first quarter. A few plays later, a pitch from Jasenio Anderson to Dontavius Clemons gave Italy a third down with 8-yards to go on Itasca's 13 yard line. Anderson bootlegged left and while being hit completed a short pass to Dontavius Clemons who slips a tackle and scores 6 points. The PAT by Jasenio Anderson was good and Italy led 7-0 with 3:23 left in the first.
Itasca started their next drive from their 38-yard line. After a tackle-for-loss by Italy's Ross Enriquez, 3-Desmond Guy for Itasca breaks up the middle for a 63-yard touchdown. The PAT by 99-Luis Hoppe tied the score 7-7 with 2:29 still to play in the first quarter. After the ensuing kick off, Italy moved the ball down to Itasca's 41-yard line before time expired in the first quarter.
Jasenio Anderson picks up the first after a fourth down and 1-yard plunge at the Itasca 40-yard line to keep the drive alive. After an incomplete pass, Anderson picks his way to the Itasca 28-yard line. After another incompletion, Clay Major rumbles to Itasca's 17-yard line. Two plays later, Jasenio Anderson throws a beautiful pass, while on the run, to Desmond Anderson for a touchdown at the 9:19 mark of the second quarter. The PAT missed but Italy had the lead 13-7.
Itasca takes the kick off and puts together a drive all the way down to Italy's 5-yard line. However, two tackles by Italy's Jonathan Nash and Zach Hernandez left Itasca with a fourth and goal on the Italy 2-yard line. That's when Italy's Dontavius Clemons knocked down a pass in the corner of the endzone and Italy took over on downs. The joy was short-lived because a few plays later, after pushing the ball to their own 25-yard line, Jasenio Anderson went to pass but was forced to scramble. As Jasenio Anderson was being tackled, he threw the ball up for grabs and Itasca picked it off and scampered in for a score. The PAT was good and Itasca was ahead 14-13 with 3:30 left in the half.
On the first offensive play, Italy's Anderson completed a short sideline pass to Dontavius Clemons who sprinted 70-yards for a touchdown thanks to a downfield block by offensive lineman Ivan Roldan. Gladiator fans were already going crazy as Jasenio Anderson ran wide left for the two-point conversion. Italy defenders Jonathan Nash, Ross Enriquez and Justin Hayes held Itasca for the last 3:11 and Italy was leading the highly ranked Itasca team 21-14 at halftime.
During the break, pee-wee cheerleaders performed for the home crowd and Senior band members were recognized for their accomplishments. Jasmine Wallace was chosen Band Sweetheart and Band Beau was Michael Vlk.
Italy started the second half by recovering an onside kick. Jasenio Anderson and Clay Major worked the ball toward the Itasca end of the field. After Jasenio Anderson ran for 11-yards down to the 4-yard line, Clay Major ran a middle dive and stretched over the Itasca goaline for a touchdown. Jasenio Anderson added the PAT and Italy was in control leading 28-14 with just under 10:00 left in the third quarter.
13-Greg Mason returned the Italy kick off to the Gladiator 45-yard line. Itasca's bruising fullback 33-De'Veon Mayberry (related to the Italy Mayberrys') charged in for the score. The PAT by 99-Luis Hoppe was deflected but still made it through the uprights and Itasca was back in the game trailing Italy 28-21 with 5:55 left in the third quarter.
Italy was forced to punt on their next possession from their own 35-yard line. A nice return by 13-Greg Mason for Itasca down to Italy's 30-yard line was called all the way back due to a clipping penalty. Itasca moved the ball to their 35-yard line as the third quarter ended.
After a shooting star lit up the night sky, Itasca's quarterback 5-Mikey Marshall's pass on 2nd down was deflected and Italy's workhorse, Jasenio Anderson, intercepted at the Itasca 39-yard line. Jasenio Anderson then completed a pass to Desmond Anderson at Itasca's 6-yard line. On the next play, Jasenio Anderson ran right to the 3-yard line. On second and goal Italy tried a slant pass but 13-Greg Mason for Itasca jumped the route and out ran the Gladiators for a 103-yard interception return for 6 points. The PAT was good and the game was tied again 28-28.
With 10:35 left in the game, Italy struggled to advance the ball after receiving the kick off. A penalty backed the Gladiator offense down to their own 32-yard line. Jasenio Anderson threw a screen pass to Clay Major who ran for a first down at the Italy 47-yard line. Unable to get much further, an incomplete pass gave Itasca the ball on downs at their own 46-yard line.
Itasca had to work for every yard they gained. They did however manage to get to Italy's 6-yard line. A false start penalty backed Itasca's offense to the 11-yard line. The Gladiator defense anchored by Zach Hernandez forced Itasca to attempt a field goal. 99-Luis Hoppe's kick was successful and it gave Itasca a late fourth quarter lead, 31-28, with 3:26 left in the contest.
Italy would start their final drive from their own 25-yard line. Short runs by Jasenio Anderson, Clay Major and Dontavius Anderson kept the chains moving. A pass from Jasenio Anderson to Diamond Rodgers spotted the ball on Itasca's 40-yard line with:39 remaining. On the next play, Jasenio Anderson finds a wide open Gladiator receiver near Itasca's goaline and delivers an over the shoulder pass that would have giving Italy the lead with :30 left. Unfortunately, the pass went through "Our" hands and the Itasca Wampus Cats escape with the 31-28 victory.
After the game, a gracious Coach Bales said, "He was proud of the team for playing their hearts out to win the game knowing a win wouldn't get them into the post season." Former Gladiator Greg Mason '88 and proud father of 13-Greg Mason for Itasca, let me know that our Italy team was the toughest competition Itasca has faced this season. Jasenio Anderson wanted to thank his offensive lineman for their efforts this season. Also, Jasenio appreciates his Senior teammates for their leadership and his coaches for their sacrifices.
Thank you Senior players, cheerleaders and band members for giving IHS your very best!
Game Stats:
ITASCA
Total yards – 285
Rushing yards – 240
Passing yards – 45
Leading rusher – Desmond guy / 17 carries for 203 yards / 1 TD
Receiving yards – Stanley Johnson / 1 reception for 45 yards
Kicker- Luis Hoppe / 1 field goal (game winner)
ITALY
Total yards – 412
Rushing yards – 165
Passing yards – 247
Leading passer – Jasenio Anderson / 15 of 30 for 247 yards
Leading rusher – Jasenio Anderson / 24 carries for 130 yards / a 2 point conversion
Receiving yards – Dontavius Clemons / 4 receptions for 94 yards / a 12 yard TD and a 70 yard TD
MVP – The whole Italy Gladiator team
Back – Jasenio Anderson
Block – Ivan Roldan / Clay Major
Catch – Desmond Anderson
Defense – Jonathan Nash / Justin Hayes
Thief – Jasenio Anderson
Beef – Ross Enriquez / Zach Hernandez
Playmaker – Dontavius Clemons
Heart – Clay Major