Italy Gladiator's 7-on-7 Football Team sur-passes expectations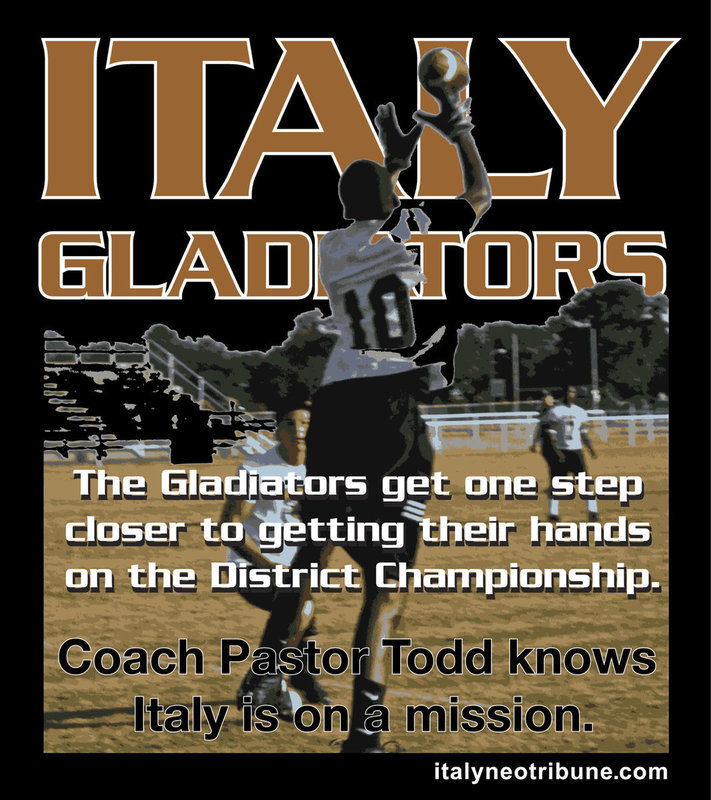 We knew they would be better. We knew they would be good. After witnessing Italy in action during the 7-on-7 all passing league Thursday at Willis Field, we can now expect the Italy Gladiators to be great next season.
In the first game, Italy jumped out in front, against 2A Maypearl, to begin the day and held on for the win under the leadership of Coach Pastor Todd of the Central Baptist Church.
Maypearl just couldn't stop the passing combination of Jasenio Anderson to John Isaac who managed to keep Maypearl back on their claws.
In the second game, the Gladiators came from behind to beat the 3A Ferris Yellowjackets. Desmond Anderson made a smooth catch for a touchdown after hauling in a bomb from his cousin, Jasenio Anderson, early in the matchup.
However, Ferris scored late and made a 1-point conversion to take the lead by 7-points, leaving a door of opportunity open for Italy.
And taking advantage, Italy marched down the field and pulled within 1-point after a touchdown pass from Jasenio Anderson to Heath Clemons.
Italy converted the 2-point conversion and defeated Ferris by 1.
In the final game of the day, and of the summer, Italy lost focus after their first two wins and came up short against Blooming Grove.
Italy had previously beaten Blooming Grove by 4 touchdowns earlier this summer and took the Lions for granted. A shocked Blooming Grove squad raised their hands in victory after the accomplishment.
Coach Pastor Todd played football in high school and college and did an outanding job of running the team. He used the loss to Blooming Grove as a reminder to the Gladiators not to underestimate any of their opponents next season.
Coach Pastor Todd stated after the games, "The Italy kids are very talented and I enjoyed being a part of the summer league, it was fun!"
Even though Pastor Todd has been in Italy for only a short while, he quickly realized how important Gladiator Football is to the town and understands the team's mission to be the District Champions next fall.
We Believe.