Two-a-day workouts have Gladiators focused on football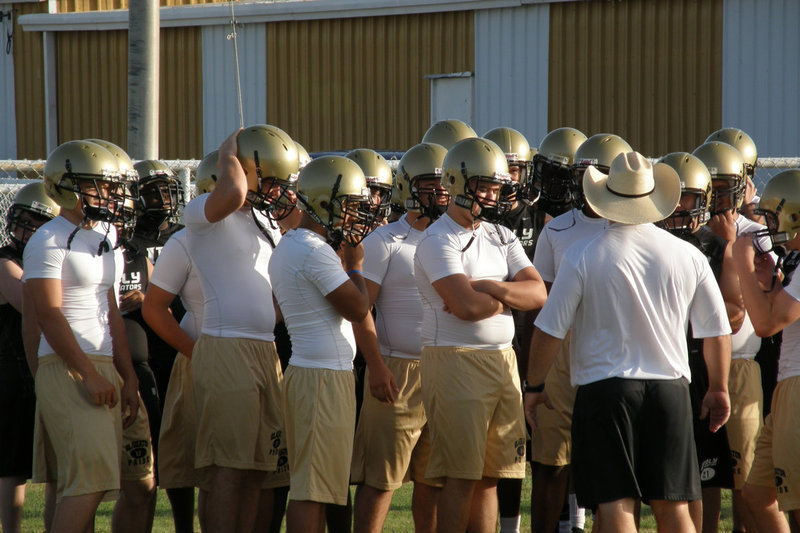 The Italy Gladiators are gearing up for a run at the District Championship with two-a-day practices beginning this week. Head Coach Craig Bales has his full coaching staff from last season and has his players thirsty for the title.
The sign on the fieldhouse door reads, "Gladiator Football will not be entrusted to the timid and the weak." Italy's players and coaches are demanding perfection from themselves and putting the rest of the district on notice. The message is clear.
And what a difference a year makes. Considered young last season, Italy is now loaded with seasoned veterans. Junior quarterback Jasenio Anderson, who was an All-State Punter last season, will lead the charge for the Gladiators but he won't have to do it alone.
Seniors John Isaac and Desmond Anderson along with Junior Heath Clemons will help make the Italy's offensive war wagon indestructable.
Carrying the weight of the entire town on their shoulders will be Italy's beefy offensive line. The last time Italy had an offensive line that averaged over 200 pounds in class 1A football the team finished 14-1.
Coach Kyle Holley was the quarterback for that memorable '85-'86 team and currently works with the quarterbacks and backs for the Gladiators.
As great as all that sounds, it will likely be the Gladiator defense that ultimately will make the difference for the Gladiators this season. Defensive coordinator Robert Sollers has enfused his defense with a winning spirit an team pride.
Most football analysts agree defense wins championships. Expect Italy to create havoc for opposing offenses by cracking helmets and forcing turnovers. And since playing Gladiator football means being an iron-man, the beef on offense will be the same wall defending the goaline on defense.
Add an upgraded secondary unit to the defensive formula for success and all the pieces are back in place. A new found attitude will have Italy playing with heart and it will be pounding it's way through the competition.
"We Believe!"