Gladiators gear up for their Championship run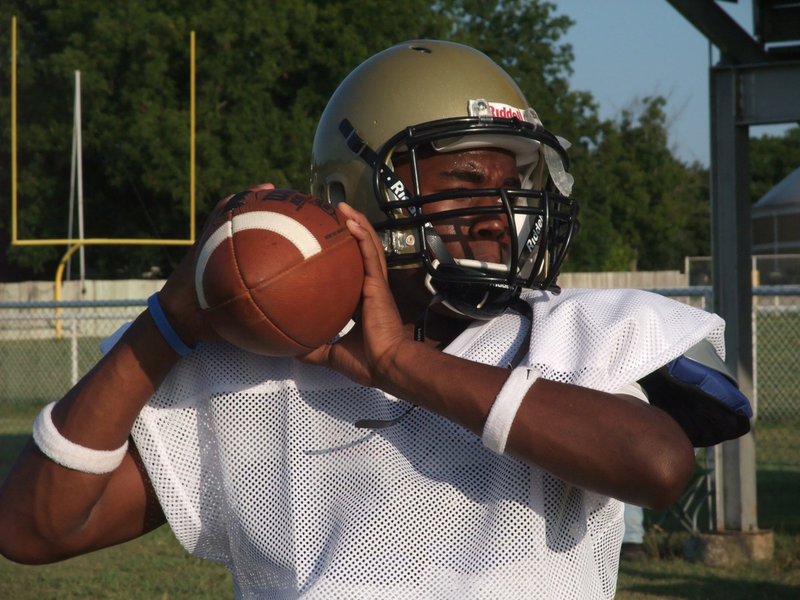 The first week of two-a-days for the Gladiators has come to an end, but not without having a little contact before the weekend.
The JV and Varsity squads wore helmets and shoulder pads on Friday to acquaint with one another on a more personal level.
The linemen were inspired by Coach Stephen Coleman's reminder not to be sloppy during the drills in appreciation of all the Gladiators that had come before them.
And then familiar sounds began echoing around the practice field adjacent to Willis Field. There was a snap and then a crackle and then a pop, but it wasn't Rice Krispies…no this was something else.
It was the sound of chin straps being pulled a bit tighter and snapped to the golden ceremonial headgear worn by the Gladiator football players. It was the crack of metal, plastic and flesh colliding head-on, followed by that distinctive pop when technique, determination and tradition meet simultaneously.
Whistles and cheers and coaches' exclamations filled the steamy air as the sun glistened off the old gold. It was a great day to be a Gladiator indeed.
The morning practices began each day at 8:00 a.m. and concluded at 9:40 a.m. The players and coaches then took a one hour break before returning for the 10:40 a.m. practice session.
The schedule will continue next week as well but Coach Matt Coker couldn't help looking ahead when he said, "I'm looking forward to our scrimmage next Saturday against Blooming Grove here in Italy."
All the players are practicing hard and Varsity players can even be heard encouraging JV players. With that said, the practices are physical and a grind at times but that's when Gladiators become men.
Some standouts so far worth mentioning are Jonathan Nash, Ross Enriquez, Ivan Roldan and Kyle Wilkins. Noseguard Bobby Wilson battled through what seemed to be a severe headache and Zach Hernandez was sidelined with a sore knee using crutches to keep up with his lineman brothers and urge them on.
Jasenio Anderson, Heath Clemons, John Isaac and Desmond Anderson are bright spots for the Varsity backs and receivers while JV players Corrin Frazer, Tony Wooldridge and most improved lineman Larry Mayberry are making a name for themselves.
Jase Holden is a smooth receiver for the JV and Kyle Jackson made nice plays from his defensive end position but it was Mayberry who was credited with the hit of the day when he form-tackled a runner and smashed him violently to the harsh surface. The effort left Coach Coleman shouting, "Larry you beast!"
The Italy JV team will scrimmage against the Blooming Grove JV team at 10:00 a.m. on Saturday 14th, followed by an Italy versus Blooming Grove Varsity scrimmage.
Go Gladiators!