Gladiators make plays during Saturday's football scrimmages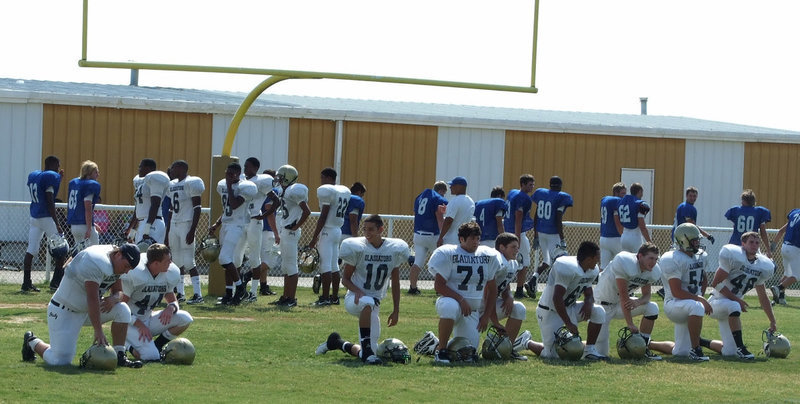 Italy JV vs. Blooming Grove JV:
Using 15-15 and 10-10 format, the Italy Gladiator JV team was given 15 chances to score first. However, it was the 6th play of their opening drive against the Blooming Grove Lions that saw Kyle Jackson power off left tackle and bounce it outside for a 50-yard touchdown sprint.
Fullback Ethan Saxon rammed the ball down the throat of the Lion defense which opened up Italy's passing attack. Unfortunately, Quarterback Tony Wooldridge's roll out passes were sailing high, but the opportunities were there. And that's good news for the JV offense.
On Italy's second drive which started from their own 30-yard line, Wooldridge eventually scampered around the left end for a 33-yard gain down to the Lion's 16-yard line.
A Lion sack pushed Italy back to the 24-yard line. A pass attempt from Wooldridge to Jackson just missed in the end zone and the 15th play of Italy's drive ended with Chase Hamilton rumbling down to the 11.
Making the most of their first 15 offensive plays, Blooming Grove marched down the field with successive gains 9, 3, 6, 12-yards on their first possessions. The drive was capped off with an 18-yard touchdown run off right tackle. Initially stopped for a short gain, the 2nd effort by the Blooming Grove runner tied the match 1-1.
Italy responded on their next set of 10 offensive plays when Hamilton raced 57-yards for another Gladiator TD, making the score 2-1.
Blooming Grove tried to tie the scrimmage with their next possession, but a nice defensive play was turned in by Italy's Jackson at defensive end and safety Corrin Frazier as they met simultaniously at the Blooming Grove runner, who was trying to break out around the right side of the Gladiator defense. Defensive lineman Adrian Reed had a strong showing as well as Hamilton at his linebacker position.
The defense then forced a Lion turnover, which in a regular game, the ball would be given to the Gladiator offense. In the scrimmage, Blooming Grove still had 1 last play to run. The Lion's pass attempt fell incomplete securing a 2-1 win for Italy's JV team.
Italy Gladiators vs. Blooming Grove:
Using a 20-20 and 10-10 (Red Zone) format, Italy's defense got off to an impressive start led by right tackle, Ross Enriquez, who made several hard hitting tackles throughout. Not to be outdone was Heath Clemons with the slobber-knocking hit of the day early in Blooming Grove's 1st possession, which actually dislodged Clemons' helmet upon impact.
Blooming Grove finally hit it big on a run around the left side of the Italy defense forcing Jasenio Anderson to make a touchdown-saving tackle at the 50-yard line.
Italy finally contained the Lions forcing a 4th down on the Gladiator's 10-yard line. Unfortunately, Blooming Grove caught the Italy secondary off-guard and connected on a fade route to the back left corner of the end zone for a 1-0 advantage.
On Blooming Grove's 2nd possession, defensive end Jonathan Nash hit the Lion runner coming out of a spin. The collision jarred the ball loose allowing for a Gladiator fumble recovery by Jacob Lopez. The play forced Blooming Grove to start from the 30-yard line again where Italy's Larry Mayberry and Bobby Wilson combined for a sack forcing a 2nd down with 15-yards to go.
After backup cornerback, Eddie Gonzalez, held his own against the run and then disrupted a Lion's pass attempt, Justin Hayes sacked the Blooming Grove quarterback for a 6-yard loss. The effort gave Italy momentum as they began their first offensive possession, in which they would get to run 20 straight plays as the Lion's had previously ran.
Anderson hit Ryan Ashcraft with a sideline pass for an 11-yard 1st down. Anderson later had a 16-yard run to Blooming Grove's 44-yard line, but back-to-back Lion sacks spoiled the Gladiator drive.
After getting little going on their second possession, Anderson would add another 17-yard gain on Italy's 3rd possession before backup quarterback Clemons took a few snaps under center.
Both sides had their final 10 plays start on the 20-yard line of the defense or the Red Zone. Blooming Grove went first and overcame a sack by Ross Enriquez and a tackle by Ivan Roldan before scoring on a 20-yard touchdown toss, increasing the lions advantage 2-0.
Italy's first play in the Red Zone had Anderson throwing a 19-yard sideline pass to Jon Isaac. Anderson punched it in from the 1-yard line to make the final tally Blooming Grove 2 and Italy 1.
Italy has some work to do in the passing game but that's normal this early in the season. Defensively, Italy's front line showed signs of being dominant which will help out the secondary unit as fall draws near.
Italy will scrimmage Waco Reicher on Friday, August 21, at Waco.
Go Gladiators!