Italy Band Is Ready To Play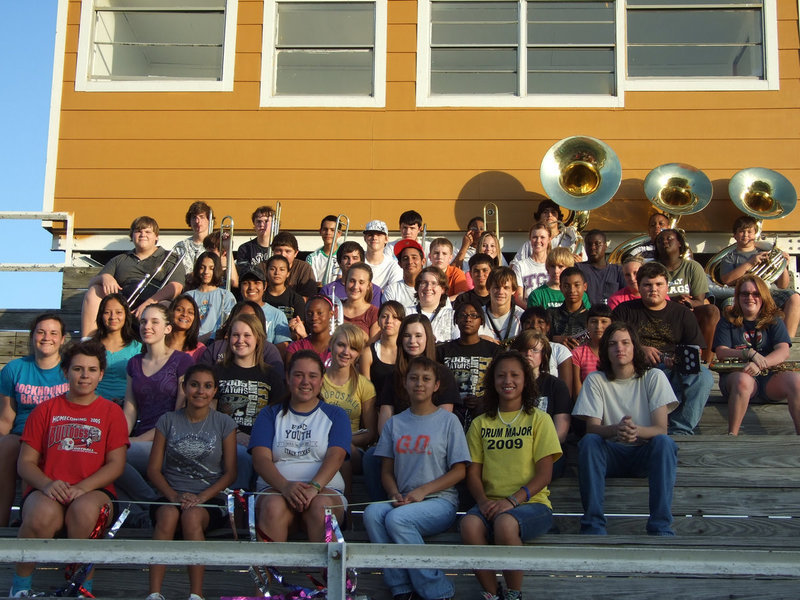 The Italy High School Regiment Band is ready. They have been practicing for several weeks and started long before school began. They are ready to march on the field at halftime on Friday night's game against Maypearl.
Last week, the band invited parents, friends and faculty to listen to a snippet of what was to come. Band director, Jesus Perez, helped the students with a rendition of Batman on the practice field. Afterwards, Perez addressed the band members and parents. "Because of our success last year, we have to aim even higher. We are looking to 'repeat the sweep' (our sweepstakes from last year). That is our motto. And with this being an advancing year for marching band, we will be looking to advance to the area round of the marching contest," Perez explained.
The performance completed and everyone was invited to partake in ice cream and at the band hall. Parents then began a Band Booster Meeting where plans were discussed about upcoming fundraisers and responsiblities. Officers were elected: President-Kathy Haight, Co-Vice Presidents-DeeDee Hamilton, Andrea Hooker, Secretary-Flossie Gowin and Treasurer-Shirley Culluum.
Band Members for 2009-10:
Flute
Molly Haight
Nikki Brashear
Megan Hooker
Jesica Wilkins
Sierra Harris
Clarinet
Lupita Luna
Laura Luna
Jameka Copeland
Brianna Burkhalter
Paola Mata
Chante Birdsong
Khadijah Davis
Alto Sax
Brandon Owens
Jessica Hernandez
Megan Buchanan
Chase Hamilton
JoMac Pitts
Emily Stiles
Hank Seabolt
Austin Williams
Tenor Sax
Ronald Helms
Trumpet
Collier Jacinto
Taz Martinez
Adam Michael
Marisela Perez
Reid Jacinto
French Horn
Brianna Perry
Cruz Enriquez
Trombone
Nolan Griffith
Mark Levy
Braulio Luna
Logan Owens
John Hughes
Zach Latimer
Dustien Horner
Baritone
Drenda Burk
Jimesha Reed
Matthew Levy
Bailey Walton
Robert Dellinger
Tuba
Billy Benavides
Timothy Fleming
Yonatan Davila
Zain Byers
Justin Wood
Percussion
Brett Kirton- Tenors
Adrian Reed- Snare
Kaitlyn Rossa- Snare
Haley Love- Snare
Kevin Roldan- Bass Drum
Jessica Garcia- Marimba
Gus Allen- Marimba/Bass
Kaytlyn Bales- Cymbals
Melissa Smithey- Cymbals
Kaitlan Davidson- Cymbals
Flags
Nikki Brashear
Heather Hilliard
Maria Estrada
Yesenia Lopez
Megan Buchanan