Christmas Concert entertains Gladiator fans inside the Coliseum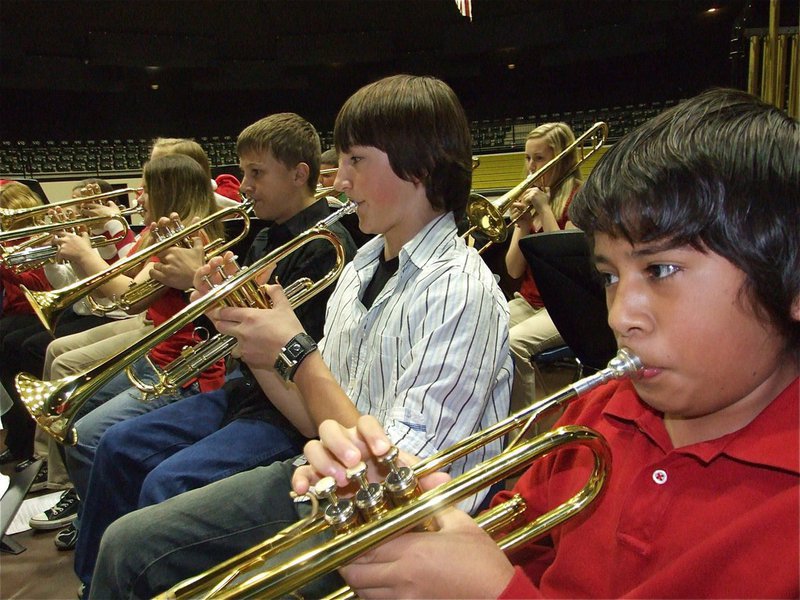 The Italy 7th Grade Band and the Gladiator Regiment Band performed a Christmas Concert for Gladiator Fans inside Italy Coliseum Thursday, December 17.
With Band Director Jesus Perez waving the wand, the spirit of the Holidays filled the dome, entertaining all ye faithful.
The concert featured a couple of new instruments including a four-valve tuba played by Billy Benavides and a beautiful solo on the oboe performed by Alexis Sampley.
Both bands were dressed in Christmas colors and several band members wore Santa hats. Even a pair of antlers could be seen prancing around the percussion section.
To cap off the night, Mr. Perez received an Sony iPod Deck presented to him by Drum Majors Molly Haight and Jessica Hernandez, and the section leaders of the band.
Molly Haight recapped the concert by saying, "I believe both bands did very well tonight, not only did they play well, but they also had a good time. I think thats what matters the most!"
Happy Holidays from the Italy 7th Grade Band and the Gladiator Regiment Band!