Daniel Seay and the Aledo Bearcats win the 4A State Championship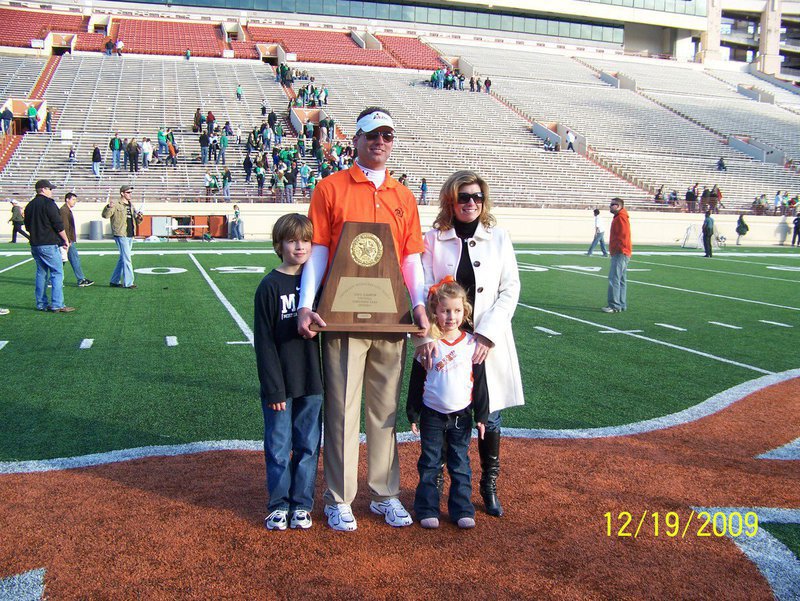 Daniel Seay, Italy Gladiator alumni '91, and the Aledo Bearcats(15-1), head coached by Athletic Director Tim Buchanan, celebrated winning the Region 4 Division II State Championship on December 19.
A Defensive Coordinator for Aledo, 6'5" Daniel stood tall after the game on the Texas Longhorn logo at the center of Joe Jamail Field inside the Darrell K. Royal – Texas Memorial Stadium in Austin, Texas.
With a smile as big as Texas, Daniel held the State Championship trophy while posing for pictures with his wife Robin and their two kids Grant(9), Skyler(4) and his parents, Frances and David Seay of Italy.
Daniel was an assistant coach with Aledo in 1998 when they won their first State Championship as a 3A program and has been coaching with Aledo for the past 12 years.
The Brenham Cubs had 4th and 1-yard to go inside Aledo's 10-yard line as the game came down to the final 2 minutes. The Bearcats defense held and two plays later, the offensive line executed their blocks to spring tailback #32 Johnathan Gray 89-yards for the game securing touchdown as Aledo defeated Brenham 35-21.
"It was an intense and exciting game, and the UT stadium was an amazing facility. We are so proud of Daniel and his team's accomplishment. It was truly a thrill being at the game," said proud dad, David.
A beaming Frances said, "The team was very talented and overcame so much to win State. I'm proud of Daniel for being a good role model for the kids."
Congratulations to Daniel Seay and the Aledo Bearcats for winning the 4A State Championship. We are proud of you!