Gladiator Regiment Band wins Sweepstakes for 2nd year in a row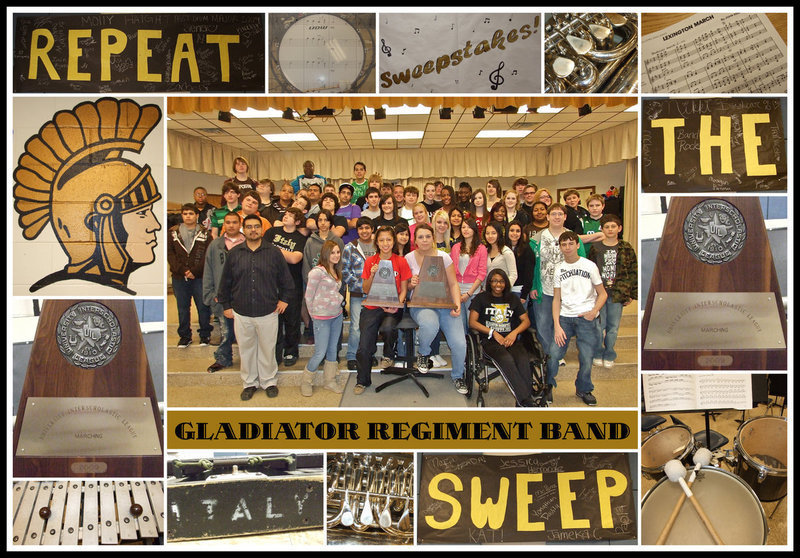 The blow-by-blow:
Congratulations to Band Director Jesus Perez, Drum Major Jessica Hernandez, assistant Drum Major Molly Haight and the Gladiator Regiment Band for winning Sweepstakes for the second year in a row.
Italy first won a U.I.L. marching competition back in October. On March 4, Italy earned unanimous 1's in concert and sight reading to win the Sweepstakes.
The Gladiator Regiment Band's music selections were:
The Lexington March – composed by Edmonson
Maesong – composed by Owens
Crusade – composed by Gassi
Both Italy and Holland High School repeated Sweepstakes for the second year in a row.
Italy, Itasca, Holland and Iola all averaged Sweepstakes with Italy and Iola both receiving unanimous 1's from all the judges.
The U.I.L. judges for concert were:
David Dunham
Darin Johns
Darrington White


The U.I.L. judges for sight reading were:
Robert Florez
Jim Perry
John Stuckey


"Good musicality and a good performance overall. Good teaching very evident. Congrats to the students and the director," wrote Judge Darrington White in reference to the band's musicianship.
Also in regards to musicianship, Judge Darin Johns writes,"Style is so easily overlooked but you do it so well. Congratulations on a top notch performance. Obviously, good teaching going on in Italy."
Again, congratulations to Band Director Jesus Perez and the 57 members of the Gladiator Regiment Band! And the "Beat of Champions" goes on….
7th Grade Band hits all the right notes:
The Italy 7th Grade Band competed in a concert on Friday, February 26 in Riesel. Competing in both solo and ensemble, the Italy 7th Grade Band marched away with 55 1st Division medals and 17 2nd Division medals.
"There are currently 34 members in the 7th Grade Band and with 4 seniors graduating this year, I have no doubt that we will be able to fill that void, and then some, when this 7th Grade group joins the Gladiator Regiment Band next year," said Italy Band Director Jesus Perez.
"The Beat of Champions!"