7th graders and Gladiator Regiment Band perform Spring Concerts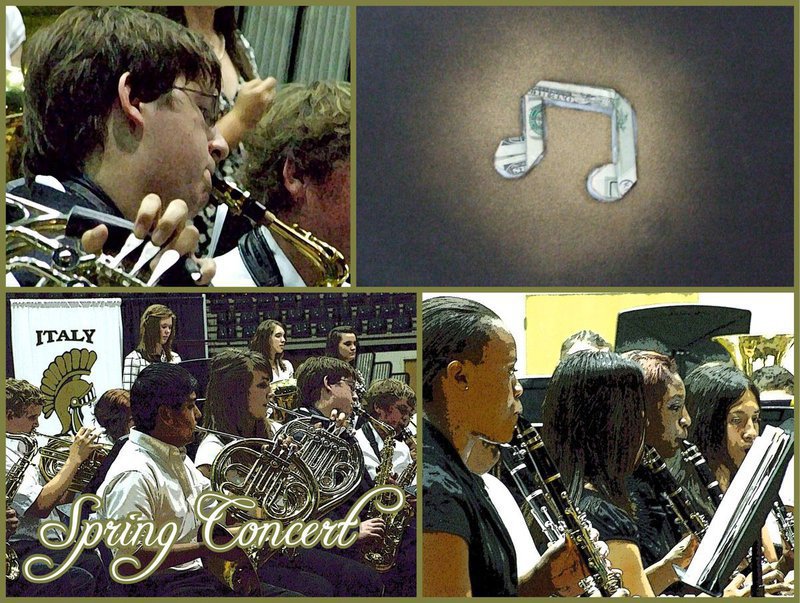 The Gladiator Regiment Band and the Italy Junior High 7th grade Band both performed during the Spring Concert held inside the Italy Coliseum dome.
With Band Director Jesus Perez waving his magic wand, the pride and joy of Italy High School filled every cubic inch of the dome with harmonious sounds.
The 7th grade Band performed first and didn't shy away from playing high school level music for those attending. Included in the 7th grade's musical selections were "School Spirit" – arrangement by John Hughes, "Furioso" – arrangement by Robert Smith, "Theme and Variations" – arrangement by Timothy Broege and "Serengeti Dreams" arrangement by Robert Smith.
Mr. Perez complimented the Italy 7th grade Band for their concert accomplishments in Riesel back in February. Competing in both solo and ensemble, the Italy 7th grade Band marched away with 55 1st Division medals and 17 total 2nd Division medals and will potentially add 34 new members to the high school band for the 2010-2011 school year.
The Gladiator Regiment Band performed next and played many of the songs that helped them win the sweepstakes for the second year in a row.
Italy first won a U.I.L. marching competition back in October. On March 4, Italy earned unanimous 1's in concert and sight reading to win the Sweepstakes. Italy received unanimous 1's from all the judges.
During the Spring Concert, the Gladiator Regiment Band performed the "Lexington March" – arrangement by John Edmondson, "Crest of Nobility" – arrangement by Robert Sheldon, "Maesong" – arrangement by William Owens with an alto saxophone solo by senior Brandon Owen, "Kenya Contrasts" – arrangement by William Himes, "Sonata pathetique" – arrangement by Ludwig van Beethoven and "Blue Ridge Saga" – arrangement by James Swearington with a trumpet solo by senior Collier Jacinto.
Perez also thanked the Italy High School Administration including Superintendent Jimmie Malone, Principal Tanya Parker, Counselor Cari Cochran, Director Special Programs Penny Matson and Director of Transportation Speed Hamby. The audience also applauded 2009-2010 Italy ISD School Board members: President Larry Eubank, Vice President Cinder Carter, Secretary Cheryl Owen, Paul Cockerham, Marty Haight, Tommy Morrison and Curtis Riddle.
Perez also asked recognized the Italy Band Booster officers consisting of President Kathy Haight, Vice Presidents' DeeDee Hamilton and Andrea Hooker, Secretary Flossie Gowin and Treasurer Shirley Cullum.
Gladiator Regiment Band member Michael "Taz" Martinez received the Patrick Gilmore Award and graduating senior Ronald Helms received the John Phillip Sousa Award and presented the honor to his grandmother, Joyce Helms, who accepted the plaque with tears of joy.
Congratulation to Mr. Perez, the 7th Grade band and the Gladiator Regiment Band on, yet another, outstanding year filled with awards and accomplishments.
"The Beat of Champions" is growing stronger and will be marching in style next fall with the recent approval by the Italy School Board to outfit the Gladiator Regiment Band with new uniforms.
7th grade Band:
1 = 1st Chair Player
C = Central Texas Honor Band
R = 1st Division @ Riesel Solo & Ensemble
Oboe:
Flutes:
Kortnei Johnson – 1,R
Lupita Rincon – R
Kierra Wilson – R
Juanita Garcia – R
Ana Luna – R


Clarinets:
Trevor Davis – 1,R
K'Breona Davis – R
Devan Payne – R
Jaclynn Lewis – R
Bailey DeBorde – R
Desi Brooks – R
Taylor Perry – R


Alto Sax:
Kyle Fortenberry – 1,R
Bailey Eubank – R


Percussion:
Coby Bland – 1
Whitney Wolaver – R
Alex Minton-Fielder – R


Trumpets
Jacob Witte – 1,R
Makenzie Goodwin-Davis – R
Reagan Cockerham – R
Madison Washington – R
Colton Petrey
Tara Wallis
Jaun Suaste – R


Trombones:
Kelsey Nelson – 1,R
Zach Mercer – 1,R
Triston Jackson
J.T. Escamilla
James Prator


Baritones:
Kelton Bales – 1,R
Chace McGinnis – R




Gladiator Regiment Band:
Sr. = Senior
T = Tri-M member
1 = 1st Chair player
ARJ = All Region Jazz
AJ = Area Jazz
AR = All-Region MS
C = Centex Honor Band
U = UIL 1st Division Solo
Flutes:
Meagan Hooker – 1,AR,C
Molly Haight – T
Sierra Harris
Jesica Wilkins
Nikki Brashear


Clarinets:
Briann Burkhalter – 1,T,C
Khadijah Davis
Maria Luna
Jameka Copeland
Laura Luna
Paola Mata
Chante Birdsong
Jessica Garcia


Alto Sax:
Brandon Owen – Sr.,1,T,C
Joe Mack Pitts – C
Jessica Hernandez – T,C
Megan Buchanan
Emily Stiles
Chase Hamilton
Austin Williams
Tristin Oldfield


Tenor Sax:
Ronald Helms – Sr.,1,T,AR,ARJ
Hank Seabolt


Trumpets:
Taz Martinez – 1,C
Collier Jacinto – Sr.,T,C
Marisela Perez
Reid Jacinto
Adam Michael


French Horns:
C.J. Enriquez – 1,T,C,U
Brianna Perry – T,C


Trombones:
Nolan Griffin – 1
Zach Latimer – T
Adrian Reed
Logan Owens
Braulio Luna
John Hughes


Baritones:
Drenda Burk – 1,T,C
Jimesha Reed
Kaitlan Davidson
Robert Dellinger
Bailey Walton


Tubas:
Timothy Fleming – 1
Kevin Roldan
Yonatan Davila
Justin Wood
Zain Byers


Percussion:
Brett Kirton – 1
Melissa Smithey – 1
Gus Allen
Kaytlyn Bales
Dylan Haight
Dustien Horner
Haylee Love
Kaitlyn Rossa – C
Arnaldo Sanchez


Color Guard:
Special thanks to Associate Director Joel Griffin and our private lesson instructors' Stephanie Winner (flute and Oboe) and Sheryl Gilliam (French Horn).