IHS band director Jesus Perez honored by Masonic Lodge of Italy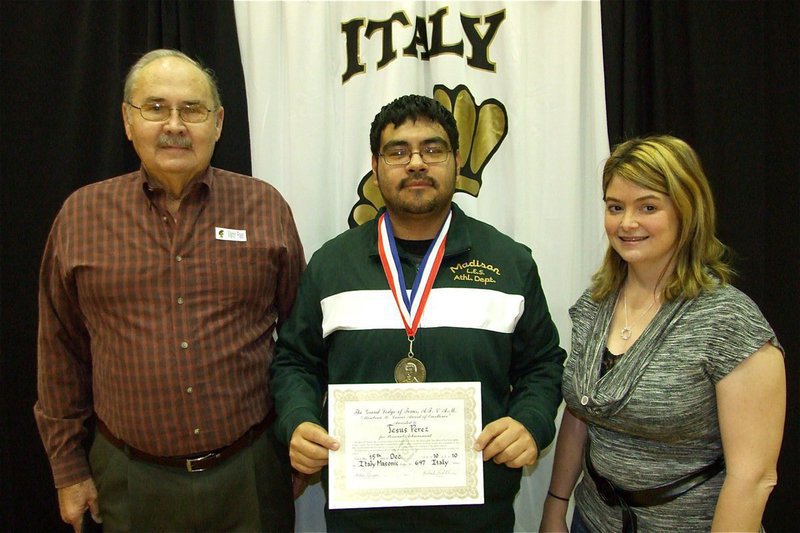 Local celebrity and Italy High School band director Jesus Perez was surprised early Tuesday morning when IHS Principal Tanya Parker called for an 8:00 a.m. assembly inside Italy Coliseum with Perez being the honored guest.
Parker first introduced Fred Ivy who represented the Italy Masonic Lodge #647. Mr. Ivy gave a brief account of Mirabeau B. Lamar who is considered the father of public education in Texas. Lamar was also a Mason as were many men who helped to lay the foundation for the country's educational system, explained Mr. Ivy.
And in the spirit of educational and personal achievement, Mr. Ivy called Perez to the podium and presented him with the Mirabeau B. Lamar Award for Excellence in Education which included a medal and a certificate issued by the Grand Lodge of Texas, A.F. & A.M.
After accepting the award, Perez stated, "I love what I do and I consider it a privilege to wake up each day and teach music to our students."
Parker returned to the podium and ended the ceremony, at which time, several students and teachers hugged and congratulated Perez.
What a great way to start out the school day and congratulations to Jesus Perez on his well deserved honor which was bestowed upon him by Fred Ivy and the Italy Masonic Lodge #647.
You can see Perez and the award-winning Gladiator Regiment Band live when they perform their annual Christmas Concert on Thursday, December 16, with the first notes being played at 6:00 p.m. inside Italy Coliseum.