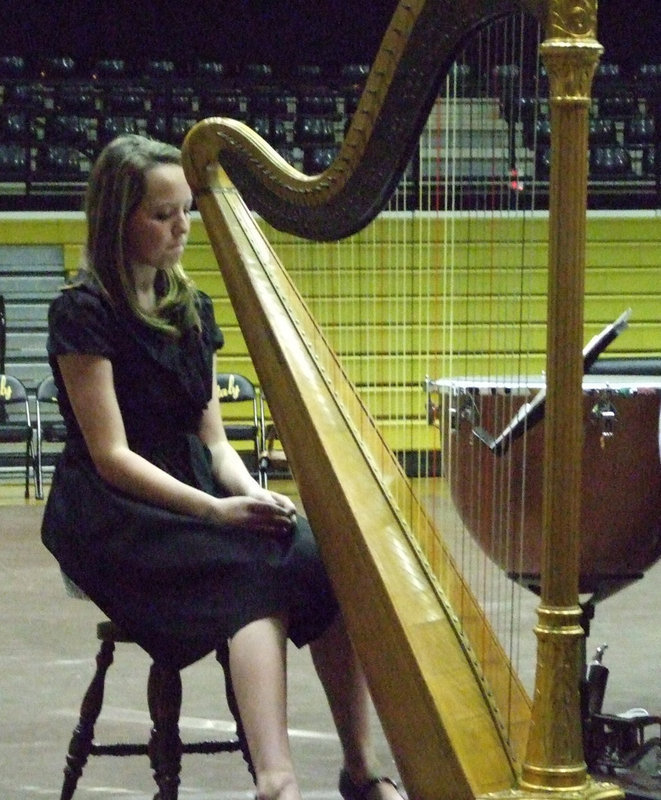 The Italy High School Gladiator Regiment Band entertained the crowd with special Christmas music on Thursday night, directed by Jesus Perez. The crowd was awed by the enormous amount talent emanating from the building evident by several standing ovations.
The 7th Grade band began the performance with Jingle Bells, My Dreydl, St. Nick on a Housetop and Good King Wenceslas.
7th Grade Band:
FLUTES
Andrea Munoz
Julissa Hernandez
Cassidy Childers
Haley Benavides
Leandrea Holbert
CLARINETS
Halee Turner
Samantha Owens
Kaci Bales
Kalicia Jackson
Lance Peck
Thomas Crowell
ALTO SAX
Zachary Lewis
Ethan Michael
Brandon Connor
TENOR SAX
TRUMPETS
Jordan Lemire
Amber Hooker
Jenny McDaniel
Sarah Coleman
Raver Harper
Volley Jaynes
Ty Windham
TROMBONES
Ashlyn Jacinto
Jozie Perkins
Jorge Galvan
Damon Murdock
BARITONES
Hanna Washington
Lillie Perry
Pedro Salazar
Janae Robertson
TUBA
PERCUSSION
Brenya Williams
Tony Wilson
With only a few minutes intermission, the high school band exchanged places with the younger group. With wonderful talent and ease, the band entertained the crowd with Frosty, the Snowman, Renaissance Christmas—Carol of the Birds—Veni Emanuel—In Dulci Jubilo, Pavane (Pour Une Infante Defunte), Ukrainian Bell Carol, Sleigh Ride, Lux Aurumque, and The Polar Express.
The audience was delighted with many different instruments- flutes, clarinets, trombones, tenor sax and a harp.
High School Band
FLUTES
Meagan Hooker
Kortnei Johnson-All Region
Ana Luna
CLARINETS
Chante Birdsong
Desi Brooks
Nick Cooper
Trevor Davis-All Region
Bailey Deborde
Lupita Luna-Senior
Laura Luna
Paola Mata
Devan Payne
FRENCH HORN
Cruz Enriquz-Tri M
Brianna Perry-Tri M
ALTO SAX
Meagan Burchanan
Bailey Eubank
Kyle Fortenberry
Chase Hamilton
Jessica Hernandez-Senior, Tri M
Tristian Oldfield
Joe Mack Pitts
Emily Stiles
Austin Williams
TENOR SAX
TRUMPETS
Reid Jacinto
Michael Martinez-Senior
Adam Michael
Marisela Perez-Senior
Juan Suaste
Tara Wallis
Madison Washington
Jacob Witte-All Region
TROMBONES
Nolan Griffith
John Hughes
Zachary Latimer
Braulio Luna
Zac Mercer
Kelsey Nelson
Logan Owens
Adrian Reed
BARITONES
Kelton Bales
Drenda Burk-Tri M
Kaitlan Davidson-Senior
Benjamin Lewis
Jimesha Reed
Bailey Walton
HARP
OBOE
Alexis Sampley-All Region
BASS CLARINET
TUBA
Yonathan Davila
Timothy Fleming
Kevin Roldan
Justin Wood
PERCUSSION
Gus Allen
Kaytlyn Bales
Brett Kirton
Alex Minton Felder-All Region
Kaitlyn Rossa
Melissa Smithey-Senior
Whitney Wolaver
Mr. Perez was very proud of his band and has learned a few things this year, "They teach me more than I teach them," he said with a smile.
The Italy bands were incredible with the Christmas Concert and deserve all the accolades they have received. Happy Holidays!