Italy students perform in Centex Honor Bands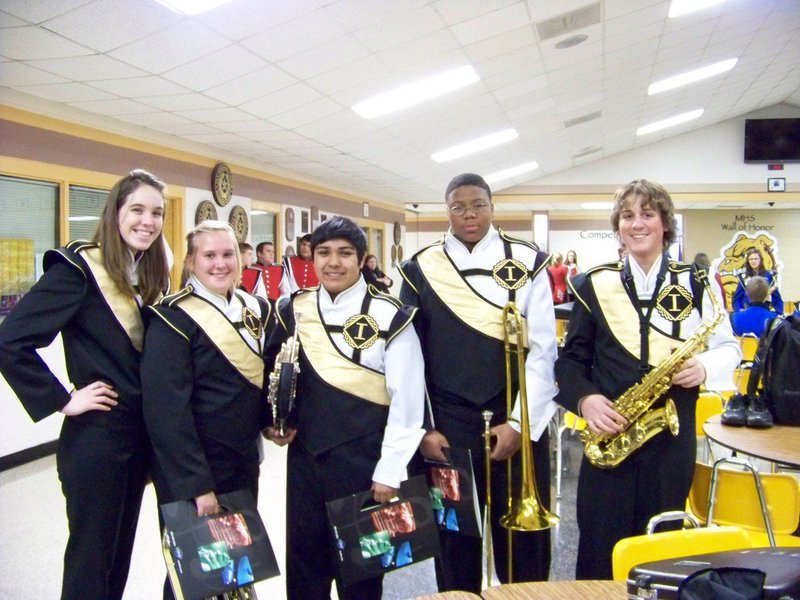 It was a night of music at the 2011 Centex Honor Bands Concert with 15 members of the Italy High School and Junior High Bands performing at McGregor High School on January 29.
Jesus Perez, band director, took 24 local students – 14 junior high students and 10 high school students — to competition January 26. Those chosen by judges performed on Saturday with about six hours of practice before the concert.
He said between 350 and 400 students tried out in the middle school division and between 300 and 350 competed in the high school division.
Perez said the Centex Honors Band is exclusive to 1A and 2A schools in the Central Texas area. Students from 25 schools performed at the concert.
The band director said 18 Italy students qualified for the competition with Alexis Sampley qualifying on two instruments. Two others were unable to perform at the concert.
The 77-member Centex Middle School Band concert featured nine Italy students at the concert – Kortnei Johnson, flute; Alexis Sampley, oboe; Trevor Davis, Devon Payne, clarinet; Jaclynn Lewis, bass clarinet; Jacob Witte, trumpet; Ben Lewis, baritone; Whitney Wolaver, percussion; and Alex Minton-Felder, mallets.
Darin Johns, band director from Colorado City, Texas, praised the entire group for their attentiveness during practice.
They performed Pride of the Regiment by Nancy Seward, Majestica by Brian Balmages, Song of Hope by James Swearingen and Silverbrook by Michael Sweeney.
The high school concert band and symphonic bands featured 133 students from the Central Texas area.
Five Italy High School students performed in the 74-member Centex High School Concert Band – Joe Mack Pitts on alto saxophone, C.J. Enriquez on French horn, John Hughes on trombone, Drenda Burk on baritone and Melissa Smithey on timpani.
Mike Lewis, a retired music director who spent more than 30 years in music education, led the concert band.
They performed The Star Spangled Banner by John Stafford Smith, arranged by James Stamps; Outrageous Overture by David Bobrowitz; Ava Maria by Franz Biebl, adapted by Robert C. Cameron; and Into the Storm by Robert W. Smith.
IHS sophomore Brett Kirton played timpani in the Symphonic Band.
Dennis Hopkins, fine arts consultant from Highland Park ISD, conducted the 59-member Centex Symphonic Band
This band performed Space and Beyond arranged by John Moss; You'll Never Walk Alone by Oscar Hammerstein and Richard Rodgers; Boogie Woogie Bugle Boy by Don Ray and Hughie Prince, arranged by Michael Sweeney; and Armed Forces March, arranged by Sweeney.