Gladiator Regiment Band member Michael Martinez joins Crossmen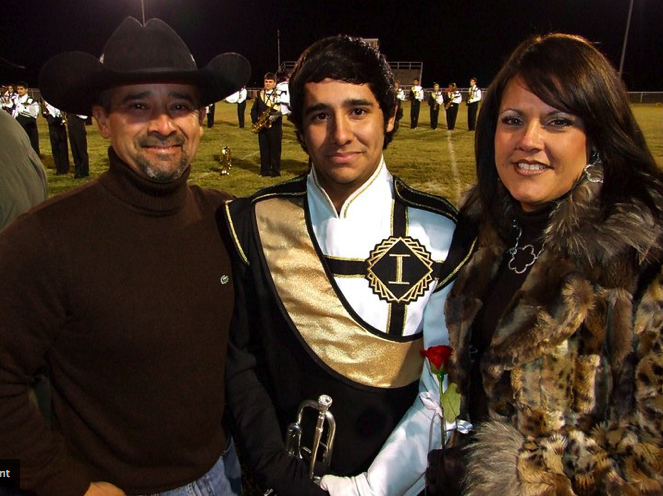 Dear Friend,
I have recently been selected to perform as a member of the World Class Crossmen Drum Corps for the 2011 season. Over six hundred individuals from around the world auditioned for the corps, and I earned a position as a trumpet player in the ensemble. As a member of the Crossmen, I will train in San Antonio, Texas one weekend per month through May, before spending the summer traveling across the United States to perform and compete in the Drum Corps International Summer Music Games.
On the surface, the Crossmen is comprised of 150 youth performers, who excel in one of three areas: brass, percussion, and color guard. We spend the summer learning, performing, and competing with a production that combines the music, theatrics, and pageantry of your high school and college marching bands, with the talent and innovation of productions such as BLAST! and Cirque de Soleil. We will travel the country for approximately ten weeks, and end our season at the DCI World Championships in Indianapolis, Indiana.
More importantly, however, the Crossmen teaches discipline, responsibility, and skills that will benefit me far beyond my time as a member of the performing ensemble. The corps is truly a family and a brotherhood, and I am proud to be a part of the tradition that is the Crossmen.
In order to participate in the Crossmen this summer, each member of the organization is required to pay approximately $3000.00 in member and touring fees. The price of membership includes travel, instruction, food, uniforms, equipment, housing, and many other expenses incurred over the tour.
Currently, I am seeking sponsorship donations to help offset the cost of membership in the Crossmen. Any size donation would make an enormous difference in my ability to participate with the corps and there are a couple of ways you can assist me on my journey. Details are on our website at www.crossmen.org.
You can contribute to my summer fees by submitting a check directly to Crossmen Productions, Inc. for the amount you wish to donate. Please indicate in a brief note that you are choosing to support me, Michael Martinez / Italy, Texas, in the memo section of the check (Not Tax-deductible).
Mail checks to:
Crossmen Productions, Inc.
PO Box 591940
San Antonio, Texas 78259
Also, I am personally accepting donations. If you require additional information, my telephone number is 972-825-2836 and my e-mail is yvonne_acevedo@yahoo.com. Thank you for your consideration.
Mail checks to:
Yvonne Acevedo
101 W. Dilworth
Italy, Texas 76651
Sincerely,
Michael Taz Martinez


Crossmen Website Calendar
Saturday, May 28 through Tuesday, June 21, 2011
San Antonio, Texas
Spring Training-Everyday-All day
Wednesday, June 22, 2011
Indianapolis, Indiana
All day
Thursday, June 23, 2011
Fairfield, Ohio
All day
Saturday, June 25, 2011
Pittsburgh, Pennsylvania
All day
Sunday, June 26, 2011
Washington D.C.
All day
Monday, June 27, 2011
Clifton, New Jersey
All day
Wednesday, June 29, 2011
Bridgeport, Connecticut
All day
Friday, July 1, 2011
Ft. Edward, New York
All day
Saturday, July 2, 2011
TBA, New Hampshire
All day
Sunday, July 3, 2011
Lynn, Maine
All day
Wednesday, July 6, 2011
Bristol, Rhode Island
All day
Thursday, July 7, 2011
Ewing, New Jersey
All day
Friday, July 8, 2011
Akron, Ohio
All day
Monday, July 11, 2011
Bowling Green, Ohio
All day
Tuesday, July 12, 2011
Davenport, Iowa
All day
Wednesday, July 13, 2011
Metamora, Illinois
All day
Saturday, July 16, 2011
Paddock Lake, Wisconsin
All day
Monday, July 18, 2011
Minneapolis, Minnesota
All day
Tuesday, July 19, 2011
Kansas City, Missouri
All day
Wednesday, July 20, 2011
Wichita, Kansas
All day
Friday, July 22, 2011
Broken Arrow, Oklahoma
All day
Saturday, July 23, 2011
Odessa, Texas
All day
Monday, July 25, 2011
San Antonio, Texas
All day
Thursday, July 28, 2011
Dallas, Texas
All day
Saturday, July 30, 2011
Milton, Florida
All day
Monday, August 1, 2011
Atlanta, Georgia
All day
Tuesday, August 2, 2011
Sevierville, Tennessee
All day
Thursday, August 4, 2011
Charleston, West Virginia
All day
Saturday, August 6, 2011
Warrenton, Virginia
All day
Sunday, August 7, 2011
Allentown, Pennsylvania
All day
Tuesday, August 9, 2011
Erie, Pennsylvania
All day
Thursday, August 11 through Saturday, August 13, 2011
Masillon, OH

Quarter Finals – Thursday All day
Semi Finals – Friday All day
Finals – Saturday All day