Join the hunt benefiting the Bluebonnet Belles Scholarship Fund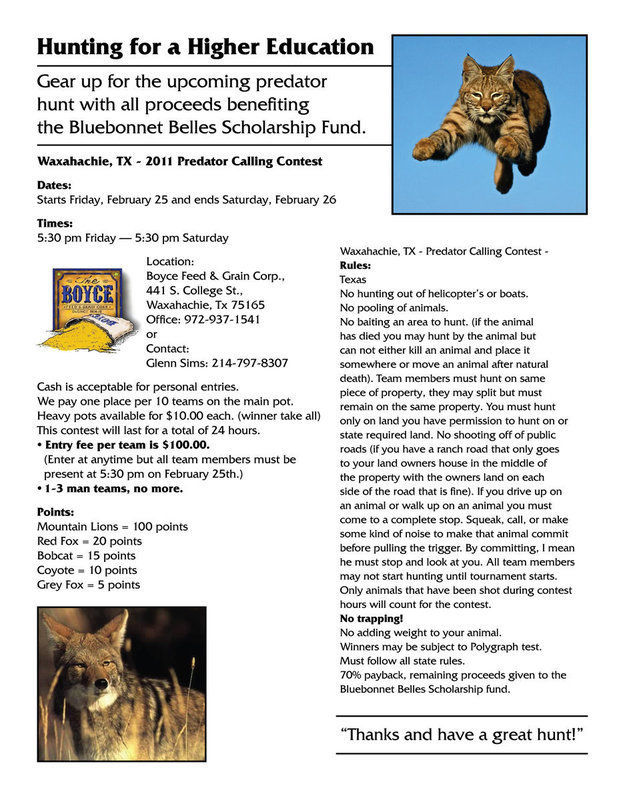 Hunting for a Higher Education
Gear up for the upcoming predator hunt with all proceeds benefiting the Bluebonnet Belles Scholarship Fund.
Originally founded by a group of Ellis County ladies, the Bluebonnet Belles now consists of both women and men of Ellis County that raise monies for graduating senior scholarships which are giving to students that show animals during the Ellis County Youth Expo.
In addition to proceeds raised during the Predator Calling Contest in Waxahachie and other events throughout the year, you can make a donation to the Bluebonnet Belles Scholarship Fund by contacting:
Ginger Mulky: 972-365-7142
Tommy Hamilton: 972-938-4300
Event:
Waxahachie, TX – 2011 Predator Calling Contest
Dates:
Starts Friday, February 25 and ends Saturday, February 26
Times:
5:30 p.m. Friday — 5:30 p.m. Saturday
Location:
Boyce Feed & Grain Corp.,
441 S. College St.,
Waxahachie, Tx 75165
Office: 972-937-1541
or
Contact:
Glenn Sims: 214-797-8307
Cash is acceptable for personal entries.
We pay one place per 10 teams on the main pot.
Heavy pots available for $10.00 each. (winner take all)
This contest will last for a total of 24 hours.
Entry fee per team is $100.00.
(Enter at anytime but all team members must be present at 5:30 pm on Friday, February 25th.)
Points:
Mountain Lions = 100 points
Red Fox = 20 points
Bobcat = 15 points
Coyote = 10 points
Grey Fox = 5 points


Waxahachie, TX – Predator Calling Contest – Rules:
No hunting out of helicopter's or boats.
No baiting an area to hunt. (if the animal has died you may hunt by the animal but can not either kill an animal and place it somewhere or move an animal after natural death).
Team members must hunt on same piece of property, they may split but must
remain on the same property.
You must hunt only on land you have permission to hunt on or state required land.
No shooting off of public roads (if you have a ranch road that only goes to your land owners house in the middle of the property with the owners land on each side of the road that is fine).
If you drive up on an animal or walk up on an animal you must come to a complete stop. Squeak, call, or make some kind of noise to make that animal commit before pulling the trigger. By committing, I mean he must stop and look at you.
All team members may not start hunting until tournament starts.
Only animals that have been shot during contest hours will count for the contest.
No adding weight to your animal.
Winners may be subject to Polygraph test.
Must follow all state rules.
70% payback, remaining proceeds given to the Bluebonnet Belles Scholarship fund.


"Thanks and have a great hunt!"