Gladiator band serves up spaghetti dinners with a side of laughter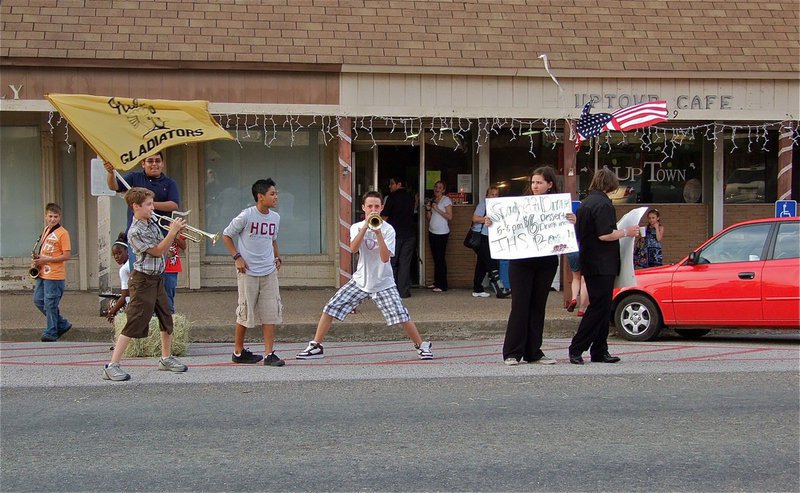 The Award winning, Italy Gladiator Regiment Band, received tremendous support during their, Easter themed, Spaghetti Dinner on Saturday, April 9 at the Uptown Café in downtown Italy. The dinner was followed by a Spring Dance held at the old Italy gym as part of the band's effort to raise funds for a group trip to Florida.
From 5:00 p.m. – 8:00 p.m., hungry customers were served salad, bread sticks, a beverage, dessert and of course, spaghetti! There was musical entertainment, door prizes, a pie auction and plenty of laughs, thanks to event emcee, Doug Nelson.
Ty Hamilton and Tara Wallis helped Doug draw the door prize winners from an Easter basket, and the winners were:
Dianne Jaynes – 22" Full HD LED Polaroid television
Alicia Davidson – $50.00 GameStop® certificate
Michael "Taz" Martinez – Stuffed bear and cookies
Kaitlan Davidson – Jewelry filled Easter basket


After Doug asked Larry Eubank to stand so everyone could see his hand being raised during the bidding, which stirred quite a chuckle, Erick Thompson ended up with a winning bid of $50.00 for the first box of key lime pie and Tommy Morrison's bid of $35.00 secured the second box auctioned off.
Doug then announced, "It's Emily Stiles' 15th birthday!" After a brief applause, the entire café sang a spirited version of 'Happy Birthday' on Emily's behalf. Doug went on to say, "The streets of Italy will be safe for one more year before Emily gets her driver's liscense." After the ensuing laughter, Doug seemed to consider quitting his day job…he was on a roll.
Doug then turned all the attention towards Gladiator Regiment Band director, Jesus Perez, who was busy downing a plate of spaghetti himself, and asked everyone to applaud the efforts of the musical maestro and the entire audience did just that.
"I'm a better musician than I am a wordsmith, but I would just like to thank the community for all their support and donations and to let the the parents know we truly appreciate them for volunteering their time in the kitchen," mentioned Perez. "Our parents make so much of what we do possible."