Larry Mayberry, Jr. accompanied by family to 2012 FCA All-Star banquet in Waco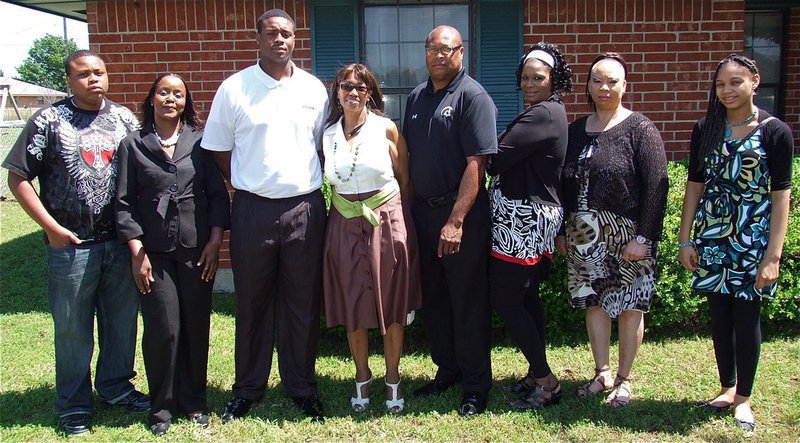 The Heart of Texas' Fellowship of Christian Athletes held their 4th annual Victory Banquet on Sunday, April 22 at 5:00 p.m. at Baylor University's Ferrell Center. Players, cheerleaders, coaches, and nominees in the 2012 Victory Bowl were honored, and time was set aside to spotlight the Heart of Texas FCA ministry.
Larry Mayberry, Jr., a senior Gladiator at Italy High School and accomplished football and basketball star, was accompanied by members of his family to partake in the meal.
Joining, Mayberry, were his mother and father, Dorothy and Larry Mayberry, Sr., his aunts, Claudia Mayberry, Lisa Pruitt, and, Anntrina Mayberry, his cousin, Sha Mayberry, and younger brother, Darol Mayberry, who also participates in Italy's athletic program as a sophomore. Mayberry, becomes the second Gladiator selected to participate in the FCA Bowl following the path of 2011 IHS graduate, Jasenio Anderson.
This year's banquet featured 12 different testimonies from Middle School, High School, and College athletes and coaches from the Heart of Texas area. Those interviewed shared how their lives were changed through Christ using the ministry of FCA. Many of these testimonies came from upcoming participants in the 4th Annual Victory Bowl.
The Super Centex Victory Bowl will take place on June 9, 2012 at Baylor University's Floyd Casey Stadium. Kickoff will be at 6:30 p.m. Mayberry, along with all other players and cheerleaders will arrive in Waco on June 6, 2012 for three days of practice. Each participant will stay at the home of a host family throughout the city of Waco. In addition to practices and team fellowship, members of each team will participate in a service project in the Waco community.
Upcoming Victory Bowl Events:
June 5th – Coaches Arrive for dinner and fellowship (TBA)
June 6th – Players and cheerleaders arrive for practice (Floyd Casey Stadium)
June 9th – 4th Annual Super Centex Victory Bowl (Floyd Casey Stadium – KICK OFF at 6:30 p.m.)
Good Luck, Hunchie!