Italy's Sassy Katz Gurlz Softball and Milford's softball girls begin playoffs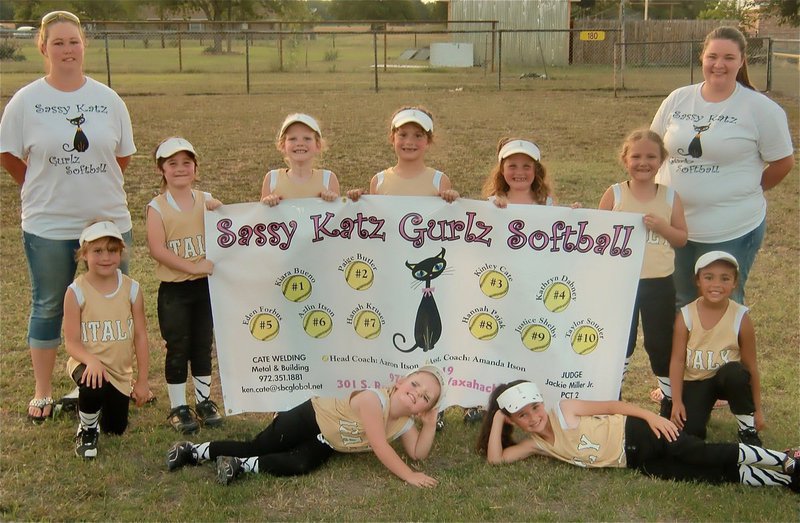 Sassy Katz Gurlz Softball, head coached by Aaron Itson and assistant coached by his wife Amanda Itson, finished in 2nd place within their 5-6 grade girls T-ball division and are ready for the district girls T-ball tournament. The Sassy Katz will play their round one game tonight starting at 6:00 p.m. in Blooming Grove.
When asked what was her most favorite moment during her first year of softball was, Azlin Itson(6), who plays catcher for the Sassy Katz, recalled a special memory from week one, "I hit the ball my first time batting and we won the game and it was my very first game to play."
Coach Itson would like to thank the parents and sponsors that have been so supportive of the Sassy Katz this season:
Team Sponsors:
Sassy Katz!
Party Place and Boutique of Waxahachie
301 S. Rogers Street
Waxahachie, Texas 75165
(972) 923-1819
Judge Jackie Miller, Precinct 2
Lil' Dab Embroidery
Italy, Texas 76651
(214) 475-3045
Sassy Katz Playoff Roster:
#1 Kiara Bueno
#2 Paige Butler
#3 Kinley Cate
#4 Kathryn Dabney
#5 Eden Forbus
#6 Azlin Itson
#7 Hanah Krusen
#8 Hannah Pajak
#9 Justice Shelby
#10 Taylor Souder
Samantha Forbus – Itasca
Katelyn Kirkpatrick – Itasca
Christan Marshall – Itasca
Head Coach:
Assistant Coach:
Milford's Team Updates:
10U Hillsboro Crush (Playing tonight in Hillsboro)
#1 Katy Willis
#2 McKenzie Wallace
#3 Ashton Shulz
#4 Kaley Cockerham
#5 Talana Green
#6 Kara Burkett
#7 Sarah Sanders
#8 Kaitlyn Divin
#9 HaLeigh Scott
#10 Melissa Segura
#11 Stacie Rodriguez
#12 Alexis Stanley (Hillsboro)
#13 Kelsey Creech (Hillsboro)
Head Coach:
Assistant Coaches:
Nicole Burkett
Jon Wallace
Markus Shulz


Milford's 10u Girls Softball (Head coached by Ty Evans)
Play in Hillsboro this evening tournament starts at 6:00 p.m.


Hillsboro's 15u Girls Softball – Coach Rodriguez
Play in Hillsboro this evening.
Team Roster:
Keely Rodriguez
Bailey Gray
Jaymee Washington
Sabreana Hardemon
Keyana Hardemon
Sha'Tyra Morris
Koreah McDaniels
Alexis Ward
Alyssa Pearson
Alexis Thompson
Alexas Dickinson
Holly Frazier
Destinie Robinson



Hillsboro's 15u Girls Softball – Coach Siddons
Play in Hillsboro this evening.
 
Team Roster:
Shelby Siddons
Brianna Garner
Brittany Garner
* Carsyn Talamantez
* Kassidy Blake
* Alysha Williams
* Lyric Brooks
* Ja'Retta Turner
* Ja'Nae Brooks
* Marrissa Merritt
* Shelby Perkins
* Brianna Medina



Helpful websites: