Gladiators raise their practice intensity in anticipation of first scrimmage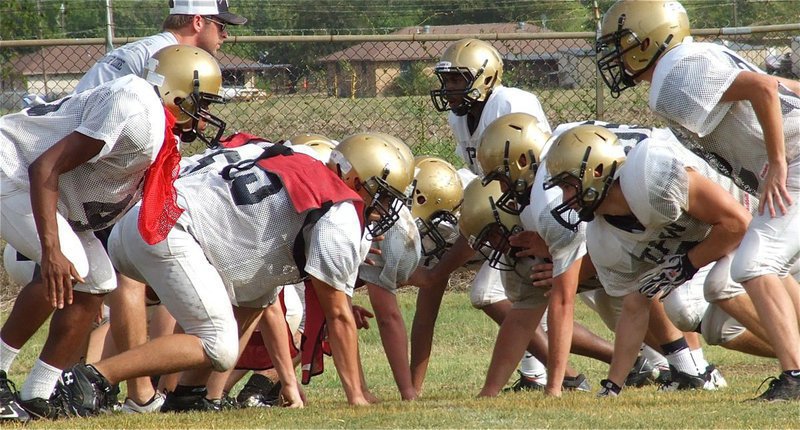 Bring a towel to the Saturday, August 18, scrimmages starting at 9:00 a.m. to get in the gate for free!


Dale Hansen Football Classic Update:
Next week WFAA Channel 8 will begin running the promo commercials for the Dale Hansen Football Classic. Below is a link to the commercial which features two Italy cheerleaders, Bailey DeBorde and Britney Chambers, as well as Gladiator mascot Reagan Adams!
The Gladiators – Training Camp:
Italy — The Italy Gladiators continue their first full week in pads of armor and on Wednesday began to realize their true potential. With every strong run, solid block, hard tackle and each precision pass and catch in the passing game, the intensity and excitement increased and the fans on hand to watch could sense the energy surge.
While enjoying his teams best field workout of their two-a-day practice schedule, senior outside linebacker and receiver/back Chase "Ham-Bone" Hamilton stated, "I wish we didn't have to scrimmage. I'm ready to start the season." A Gladiator of few words but always to the point…and to the ball for that matter.
Senior receiver Cole Hopkins and junior receiver Trevon Robertson are steadily building on their quick starts in camp. Caden Jacinto, a senior receiver as well, hauled in a long pass from quarterback Eric Carson that even got head coach Hank Hollywood excited about the offenses progress. Justin Wood, Reid Jacinto and Hamilton solidify the receiving crew while Kelvin Joffre has made the most of his opportunities to quickly become another weapon for an already fully loaded fun and gun offense.
The offensive line will begin Saturday's scrimmage with Zackery Boykin, Zain Byers, Kevin Roldan, Cody Medrano and Darol Mayberry ready to clear the way for backs Ryheem Walker and Jalarnce Lewis and quarterback Eric Carson, all of which reached another level of play on Wednesday.
Italy has the same luxury on defense as they do with their offense. Plenty of talent to choose from and on the hunt for an identity. Will they be a swarming defense, a hard hitting defense, a turnover creating defense or a well-rouned combination all three? All this group needs is a challenge to help them realize their potential. And the first challenge entering the gates of Willis Field will be the Valley Mills Eagles on Saturday, August 18, with the varsity matchup at beginning at 10:00 a.m.
Italy JV Gladiators:
Ryan Connor will take the wheel of the ship with Jaray Anderson and Tre "The Bus" Jackson sailing out of the backfield. The offensive line will be anchored by center Kyle "Catfish" Fortenberry and fortified with fellow blockers Colin Newman, John "Curly" Byers, John "J.T" Escamilla, John "Squirt" Hughes and Justin Robinson. Cody Boyd, Ty Windham and Levi McBride will have an impact this season in the passing game while newcomer Hunter Merriman is likely to be used in many different capacities. The JV contest will begin at 9:00 a.m. on Saturday at home as well.
Go Italy!