Italy's Kortnei Johnson needs donations to run in national event on July 8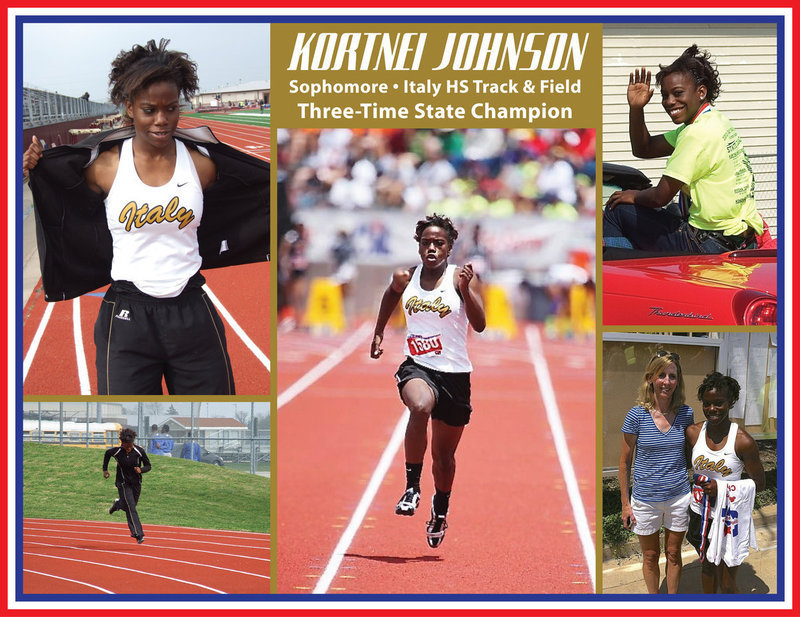 The deadline is down to the wire and Italy track star Kortnei Johnson is several hundred dollars short of the amount needed to attend the event. One of the favorites in the race, Kortnei's competition is hoping she will not be able to attend. Therefore, we are urging the fans to get involved and submit donations A.S.A.P. with the race 7 days away.
Your donations will help send Kortnei Johnson to Florida to compete in the Nationals this summer. Kortnei, who first became a State champion in 2012 in the Class 2A 100 meter dash, is currently the 2013 State champion and new record holder in both the 100 meter dash and in the 200M meter dash.
The Nationals will be held July 8-13, 2013 in Orlando, Florida and Kortnei will be competing in the 100M dash and in the 4×100 relay. This event will be televised live on ESPN.
Kortnei needs $1,475 in donations to help send Kortnei to Florida and represent the city of Italy, Texas. To make it easier for Italy Athletics' fans and Kortnei's supporters to contribute to this special cause, Citizens National Bank of Italy has setup up an account in the name of that all tax deductible donations can be made.
Checks and Money Orders must be written out to and can be deposited during normal banking hours or after hours. Please include her name on the outside of the deposit envelope and write the Check or Money Order out to . Citizen National Bank's address and normal banking hours are listed below:
Citizens National Bank of Italy
124 E. Main Street
Italy, Texas 76651
(972) 483-4300
Lobby hours:

Monday thru Thursday — 9:00 a.m. to 4:00 p.m.
Friday — 9:00 a.m. to 6:00 p.m.
Drive Thru:

Monday thru Thursday — 8:00 a.m. to 5:00 p.m.
Friday — 9:00 a.m. to 6:00 p.m.


Thanks everyone for your support!
Run, Kortnei Run!