Gladiator Regiment Band members take advantage of summer band camp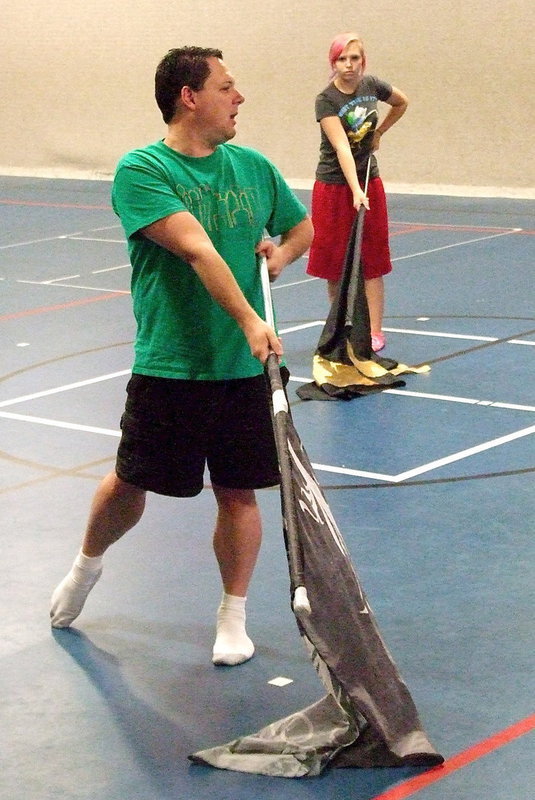 The Italy High School Gladiator Regiment Band's drumline conducted camps this week as did the color guard. Jesus Perez brought in Alexia Turner, a percussionist from Baylor University, to work with Reagan Adams on the marimba, Jacob "Stanley" Brooks on the vibraphone, Chace McGinnis on the timpani and the percussion division as a whole.
Perez and drumline members also received assistance from Italy's Junior High band director, David Graves, and Jose Sanchez of Robinson High School. Graves was previously an instructor at Baylor and taught Sanchez when he was a student there.
The camp lasted five days with campers dividing into smaller groups in which to learn their parts before coming together as a large group. The divisions Perez and his staff focused on during the camp were:
Drum Majors:
Alexis Sampley
Emily Stiles
Brass Captain
Snare:
Whitney Wolaver (Captain)
Brenya Williams
Jarvis Harris
Tenor
Basses
Noah Ramirez
Stockard Smithwick
Austin Crawford
Front Ensemble
Reagan Adams — Marimba
Jacob "Stanley" Brooks — vibraphone
Chace McGinnis — timpani
Lorena Rodriguez — Rack Accessories


The Italy High School Color Guard, with instructor/choreographer Amber Droll running the week long camp inside the Stafford Elementary gym, also received direction from Scooter Spicer of Garland ISD.
After an invigorating pre-practice group stretch, Spicer gave detailed, step-by-step instructions on flag handling while taking the squad thru its paces. Mrs. Droll would even grab a flag and join the fun. Spicer used three props to better teach the art of flag handling which included flag poles without flags, mini-poles with small flags and the squads game day/competition poles with flags.
Sarah Burrow, Kylee Dabney, Anna Riddle, Jennifer McDaniel and Kayla Cunningham will do the honors of waving the school colors with Riddle being the only returning member from last season's squad and will be this season's captain.
2013-2014 Italy High School Color Guard:
Anna Riddle (Captain)
Kayla Cunningham
Jennifer McDaniel
Kylee Dabney
Sarah Burrow
The beat of champions marches on…