Kortnei's Car Wash on Saturday, July 27, to raise money for Junior Olympics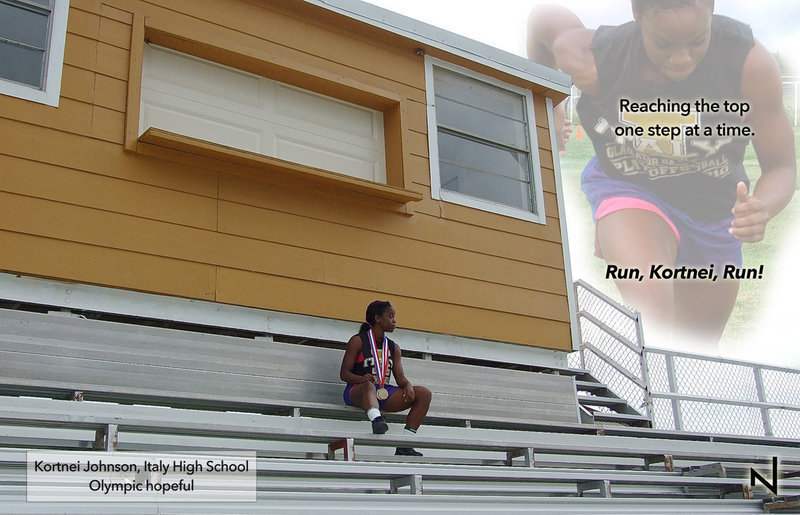 Kortnei's Car Wash will be Saturday, July 27, to raise money for travel and lodging expenses for Italy High School's, Kortnei Johnson (jr.) who is hoping to compete in the Junior Olympics which is just around the turn on August 1st in Detroit.
Kortnei's Car Wash
Location: In front of the First Baptist Church of Italy
Date: Saturday, July 27
Time: 8:00 a.m.
---
Funds permitting, Kortnei will enter the 200 Meter Dash with plans on redeeming herself after finishing second in the event at Nationals. Kortnei currently holds the 1A State record in the 200 Meter Dash.
"Along with competing at Nationals, an appearance at the Junior Olympics would go along way in helping Kortnei receive a college scholarship, get a topnotch education and train with an experienced track program. In doing so, Kortnei could some day be representing Italy and all of Ellis County as a professional track athlete, as well as, position herself that much closer to the olympics," explained father James Johnson. "Each race she competes in helps build her resume and we are so appreciative of the financial support we have been receiving from the community to ensure Kortnei makes the most of these opportunities. I told my daughter after everyone came thru at the last minute to send her to Nationals, Italy has your back."
However, there is only 11 days to raise money for the next race. Therefore, in addition to Saturday's car wash, we are asking everyone to stop by Citizens Bank of Italy to make donations into the account that will remain setup under the name of Kortnei Johnson. Again, we need to reach the $2,000 mark yet it is not every day a one-stoplight town gets to back an olympic hopeful but Kortnei is committed to making everyone proud.
For the Junior Olympics, donations will help pay for entry fees, travel to and from Detroit, gear, meals and a hotel room for about a 5 day quest while Kortnei competes in the preliminaries beginning Thursday, August 1, the semifinals on Friday and then the finals on Saturday.
NOTE: Kortnei was originally trying to join her 4×100 Meter Relay teammates in Detroit after the four girls took 1st Place at Nationals. Now, unfortunately, her teammates will not be attending citing insufficient funds and very little time to raise the money for each girl. However, Kortnei could still compete at the Junior Olympics in the 200 Meter Dash. With the other girls dropping out, Kortnei also lost much needed funding and her goal has now risen from $700.00 to the $2,000 mentioned above. This will be Kortnei's final meet of the summer.
---
To make it easier for Italy Athletics' fans and Kortnei's supporters to contribute to this special cause, Citizens National Bank of Italy has setup up an account in the name of that all tax deductible donations can be made.
Checks and Money Orders must be written out to and can be deposited during normal banking hours or after hours. Please include her name on the outside of the deposit envelope and write the Check or Money Order out to . Citizen National Bank's address and normal banking hours are listed below:
Citizens National Bank of Italy
124 E. Main Street
Italy, Texas 76651
(972) 483-4300
Lobby hours:

Monday thru Thursday — 9:00 a.m. to 4:00 p.m.
Friday — 9:00 a.m. to 6:00 p.m.
Drive Thru:

Monday thru Thursday — 8:00 a.m. to 5:00 p.m.
Friday — 9:00 a.m. to 6:00 p.m.


Thanks everyone for your support!
Run, Kortnei Run!