Gladiator Regiment Marching Band and Color Guard Band Social unites community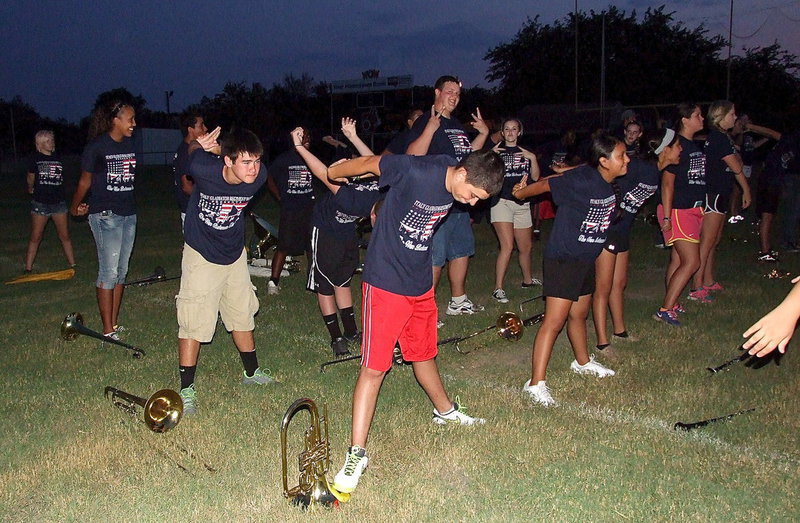 The Gladiator Regiment Marching Band and Color Guard performed live for parents and guests on Willis Field Monday as part of the department's annual Band Social. While sporting new tshirts to support their concert theme entitled, "The War Between The States," drum major Alexis Sampley was poised atop the podium as she guided the troops through their paces. As the band marched out the battle of the Civil War with sharp and direct movements, the percussion division continued the echo of explosions and gun blasts that ever so faintly linger still today.
The band's program will include several civil war era songs such as When Johnny Comes Marching Home, "Shenandoah, and Battle Hymn of the Republic. The show will also include The Great Locomotive Chase which is a song about a military operation that took place on April 12, 1862 in which Union soldiers hijacked a train and used it to destroy vital Confederate infrastructure.
Along with Sampley, assistant drum major Emily Stiles has helped mold their musical Gladiators into hardened competition veterans who are intent on winning the war and being crowned State champions by season's end.
Madison Washington is captain of the Brass division, Whitney Wolaver is captain of the Drumline and Anna Riddle is captain of the color guard.
Band director, General Jesus Perez, and second in command, David Graves, will both serve as the band's directors while Amber Droll will serve as the color guard instructor.
General Perez gave out two official awards during the presentation. Marchers of the Week awards for the band's two-a-days workouts were awarded to Reagan Adams (marimba) and Kyle Tindol (trombone).
Go Italy, Charge!!!