Italy Volunteer Fireman teach fire safety at Stafford Elementary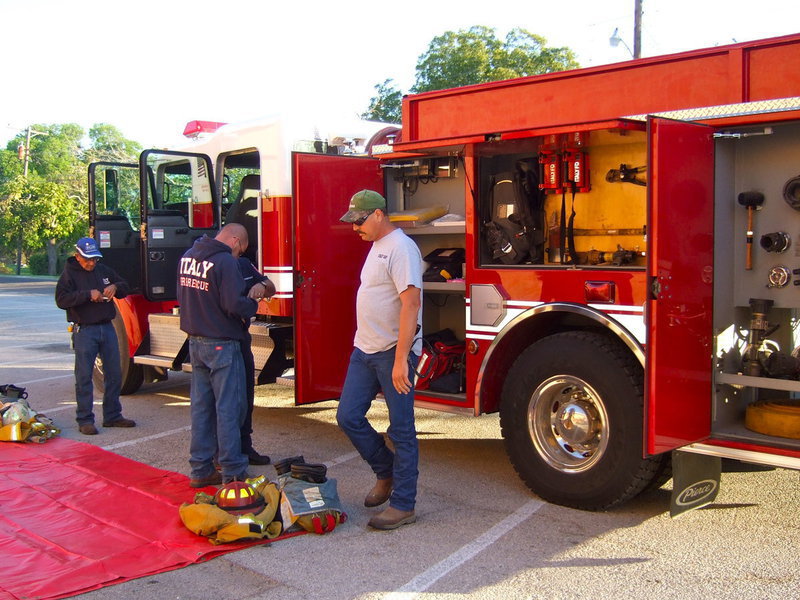 Last week was fire safety week at Stafford Elementary. Students were being taught fire safety tips in their classrooms and practicing fire drills. But nothing is as fun as having the Italy volunteer firemen come in their big red fire engine and teach students how to be safe in the event of a fire.
Jackie Cate (Italy volunteer fireman) told the kids what to do in the event of a fire. He told them to call 911 if they could. He explained if they were in a smokey building such as a school or their home to get down low and crawl because the smoke is on top and good air is on the bottom.
Another good point that Fireman Cate addressed was not hiding from the firemen when they are in a burning building. Brad Chambers (Italy volunteer fireman) put on the bunker gear to show the students they do not have to be afraid. He explained the firemen wear this bunker gear so they can be safe when they are trying to get them out of the fire.
Cate chose Tommy and Charlie (Stafford students) to help him demonstrate stop, drop and roll. He explained that if your clothes are on fire you do run around you stop, drop to the ground and roll around to put the fire out. And Tommy and Charlie must have listened really well because they had the stop, drop and roll down pat!
Principal Nash was very happy to have the Italy volunteer firemen at the school. He said, "This is fire prevention week and we are very proud to have the firemen here teaching the students about fire prevention. I think it is great that they came."
Another fun day of learning at Stafford Elementary!