IHS Class of 1968 shares memories at their 45th class reunion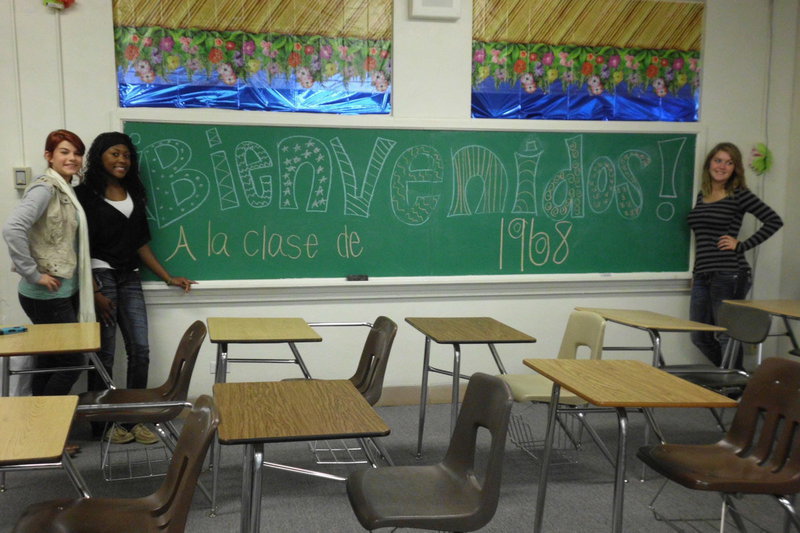 Members of the Italy High School Class of 1968 shared memories, hugs and laughter when they met for their 45th class reunion Saturday night at Rockett Ranch in Milford. The twelve classmates talked about sports, teachers and high school activities with each other throughout the night.
One of the highlights of the night came when Harvey and Barbara Wilson arrived. He was their Junior High Principal, Coach and History teacher. He told several stories that some of the classmates wished he had forgotten to the delight of everyone there.
They shared memories including:
Visiting Dick Griffis' service station on Hwy 77 after hours with his son Pat who had his own key to the door;
Dances at the Bantam shed behind Main Street;
Playing hookie from school, going to Davis tank to swim and getting caught by Superintendent Forrest Watson;
Love Street dances;
The Gladiator gold blazers that the football and basketball team wore;
Rolling a jeep at the banks of Chambers Creek;
The closeness this class has with each other 45 years later.
Harvey Wilson said he has very fond memories of this class. He wanted his students and athletes to learn the importance of telling the truth and being honest.
"I have very fond memories of this class," Wilson said. "I was always with young people, even on the weekends. I used to "haul" several of them to the swimming pool in West on the weekends. We had so much fun back then. I loved teaching and coaching."
Ronnie Clanton has great memories of his time at Italy. Highlights were playing on the teams that went to state in basketball and state in track. His favorite memories are of all the wonderful ones with his friends.
John Chambers remembers playing football for Coach Bob Burch and the "rules." One rule Burch was strict on was no cussing. One day while running drills, he fell off of the board and hit his shin on a helmet someone had left on the field. He said it hurt really bad, but quickly remembered the no cussing rule, so he said, "Who left the dad gum helmet on the dad gum field? I hit my dad gum leg." Coach Burch looked his way, did not check his leg or crack a smile and said, "At least you didn't cuss, hit the showers."
Sandie Compton Brown shared memories of playing basketball in junior high and high school. She said that Wilson impacted her life off the court as much as he did on the court as her coach.
Kent Moore shared one of his favorite memories with classmates and Harvey and Barbara Wilson.
"Mr. Wilson, when you and your family lived across the street from the school, Pat Griffis and I decided it would be fun to go to the country, catch animals and put them on your porch. So we did. Having gotten away with that prank, we then decided that it would be fun to turn the electricity off at your house. So one night not knowing that you were gone and Barbara was home alone with the kids, we turned your power off."
"Harvey, I am sincerely sorry for doing that and I want to apologize to you and Barbara right now for that. I have carried this around all these years and I want to come clean. But I also want you to know it was Pat's idea."
Everyone got a good laugh at Moore's expense. The Class of 1968 has stayed close throughout the years and vowed to continue to do so. They set tradition at IHS that is still in place. They were the first class to wear gold caps and gowns at graduation and the first to have gold stones in their senior rings. They added many trophies to the trophy cases during their high school years. They are proud of their accomplishments.
At the end of the night, the classmates released balloons as Ranae Harrison read the names of their classmates that had passed away. These included Albert Bell, Pat Griffis, John Hailey, Billie Mills Harris, Bob Lewis, Glenda Jenkins Richards, Kayrene Thompson Uehlinger, Bobby Watson and Sylvia Wolaver.
The Class of 1968 would like to thank Lee Joffre, Italy High School Principal, Joe Tovar and the IHS cheerleaders for the tour of the high school. They would also like to thank Rockett Ranch for helping to make their reunion a great success.