The Italy Gladiators fill bye week with burgers and fries, Area game Friday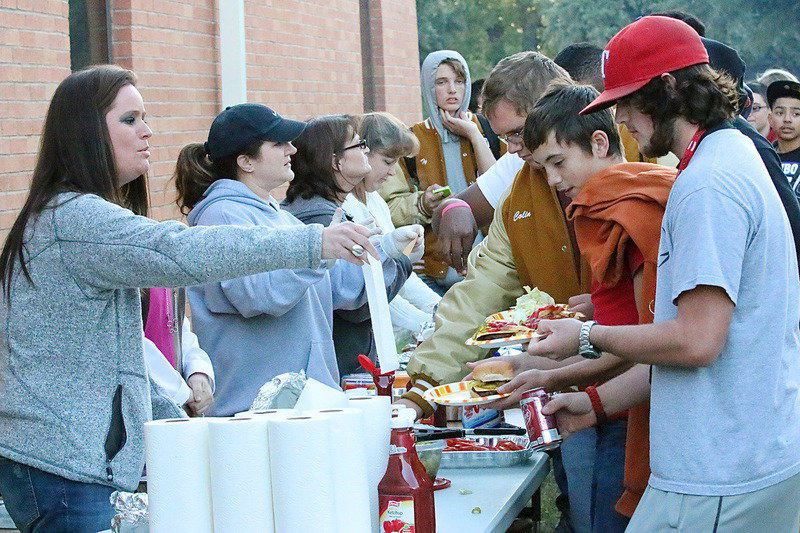 The Italy Gladiator football team, coaches, cheerleaders and regiment band members enjoyed a bye week after winning the district championship outright which earned them an automatic bi-district championship and the break.
On Wednesday, all the kiddos were were joined by members of the Lady Gladiator basketball team and treated to cheeseburgers and seasoned fries with School Board members Larry Eubank and Sal Ramirez preparing the fries and Larry Mayberry, Sr. and Mark Jacinto cooking the meat. Assisting at the fixins' table were proud mothers Robbie Jones, Tina Long, Clover Stiles, Darlene McBride and Flossie Gowin.
The cookout took place in the commons area at the high school with most of the hungry Gladiators and Lady Gladiators opting to eat inside the cafeteria where they shared a few laughs and even more memories.
The Gladiators (6-4,5-0) will play the Collinsville Pirates for the Area Championship on Friday, November 22 @ Pennington Field in Bedford located at 1501 Central Drive in Bedford, south of Airport Freeway. The Pirates are (8-3,1-0 neutral) after their 42-22 bi-district win over Wolfe City. Go Gladiators! Beat Collinsville!!
If Italy can devour Collinsville the way they did those burgers, there will only be a few Pirate crumbs left to tell the tale of Italy's bombardment and their capture of the golden football treasure..
Italy Family!