Italy Track stars leave their mark at 2014 Texas Relays in Austin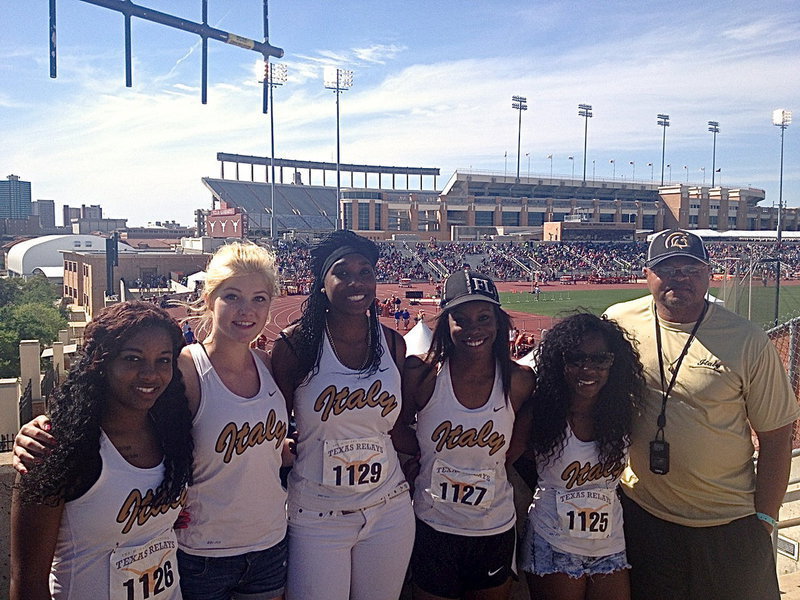 Austin — A handfull of Lady Gladiators recently competed in the 2014 87th Clyde Littlefield Texas Relays at Mike A. Myers Stadium in Austin, Texas.
Kortnei Johnson got 2nd place in the 100 meter dash with a 11.88 in Finals. Johnson won the event last year with a time of 11.82, just missing setting a new state record. In 2012 Johnson finished a 2nd place with a time of 12.01. The 100 meter dash in Division 1 is a 1A, 2A and 3A competition with Johnson having a gold medal and two silver in her collection with her senior year still to come.
Division I – 100m results:
Akeyla Mitchell, CC West Oso, 11.85
Kortnei Johnson, Italy, 11.88
Daja Gordon, Hampton, 12.04
Italy's 4 girl relay team of Bernice Hailey and Kendra Copeland, both seniors, joined forces with Halee Turner and Janae Robertson to get 6th place within their heat during the prelims with a 51.9 but did not advance to the finals.
Congratulations to all our Lady Gladiators for making us proud while representing the old gold and white in Austin!
Go Italy!