Italy's track stars shine at regionals, state bound in four events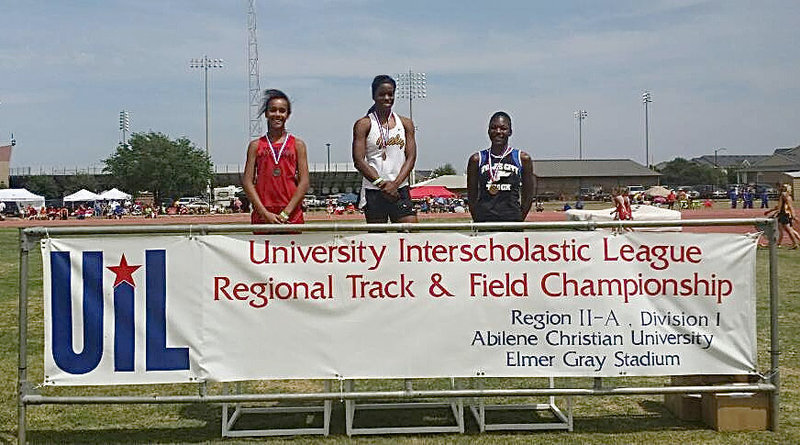 Abilene — During the UIL Regional Track and Field Championships at Abilene Christian University campus on Friday and Saturday, several student-athletes were competing from Italy High school with 5 team members advancing to the state competition which will be held at the University of Texas in Austin.
Kortnei Johnson:
Junior sprinter, Kortnei Johnson earned a gold medal in the 100m dash with a time of 11.3. Johnson also earned a gold medal in the 200m dash with a time of 23.6. Johnson is state bound in three events including the 4×100 sprint relay.
Kendra Copeland, April Lusk, Janae Robertson, Kortnei Johnson:
Kendra Copeland (Sr.), April Lusk (Fr.), Janae Robertson (So.) and Kortnei Johnson combined forces to earn a gold in their 4×100 sprint relay event with an unofficial time of 49.5.
TaMarcus Sheppard:
Senior high jumper TaMarcus Sheppard, simply known as, "T," earned a silver medal with a personal best jump of 6 feet, 3 inches to advance to state.
Halee Turner:
Sophomore hurdler, Halee Turner finished with a time of 15.90 to secure the bronze medal but only the top two medal winners can advance to state.
Eric Carson:
Senior Eric Carson posted a triple jump mark of 40 feet, 2 inches. It was a triumphant personal best for Carson although he was unable to place in the event. Carson also competed in the long jump.
Congratulations to all our track athletes on their accomplishments this season and for the team's efforts at regionals. Good luck to Kortnei, Kendra, April, Janae and TaMarcus who will each be representing the old gold and white at the state meet in Austin!!!
i can fly…