Italy High School track phenom Kortnei Johnson signs letter of intent to LSU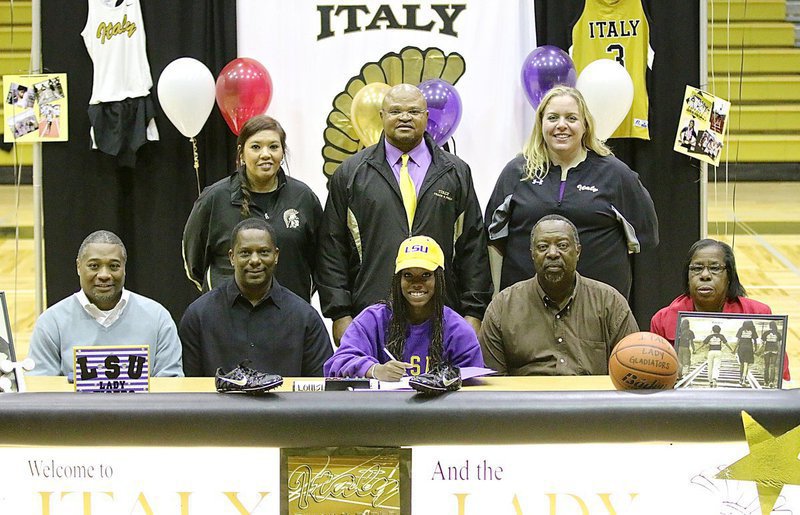 Italy — Since junior high, Italy High School senior Kortnei Johnson has taken the track world by storm and now has officially signed her letter of intent to Louisiana State University (LSU) to continue her athletic career at the D1 level. The finish line was just the beginning for Italy's high-speed sprinter.
Johnson's signing ceremony took place inside the Italy Gladiator Coliseum dome where Johnson was surrounded by family, her track teammates, classmates and Gladiator Nation. Family members attending were father James Johnson and aunt and uncle Wanda Jennings and Danny Jennings. Johnson's summer track coach Keith Herring was also in attendance.
Italy High School track coaches Bobby Campbell and Melissa Fullmer began the event with speeches that shed light on Johnson's dedication to the sport she loved, her work habits and to her numerous accomplishments, including competing at the state level 3 years (so far) in high school and finishing as a three-time state champion in the 100 meter dash and a two-time state champion in the 200 meter dash. Wow!
Johnson had narrowed her choices down to three colleges, Kansas State, University of Houston and LSU. Three track batons were taped accordingly and sitting upright in front of Johnson waiting for her to select, the one. Once Johnson held up LSU's baton, the crowd roared as Johnson unzipped her jacket to reveal an LSU Tiger shirt and then she put on an LSU cap.
Johnson then, while carrying LSU's baton in her hand, took a victory lap around the inside of the coliseum symbolic of a track lap amidst a thunderous applause. Johnson then stopped to pose for pictures and enjoy cake and punch with friends and family.
Johnson's track accomplishments are even more impressive when you consider that Italy ISD does not even have a track available to its track athletes. Johnson improved her skills while sprinting on the football fields, in the school parking lots, thru the neighborhoods and out in the country near her home. She even ran at night according to Coach Campbell in his speech.
Yes, Johnson's track goals have come full circle. Johnson has always dreamed of running track for the LSU Tigers and the dream is coming true. When asked if she had any advice for future Lady Gladiator athletes, Johnson smiled, "Follow your dreams."
Congratulations, Kortnei!!! And good luck to you and your teammates!