City of Italy honors Altha McNeely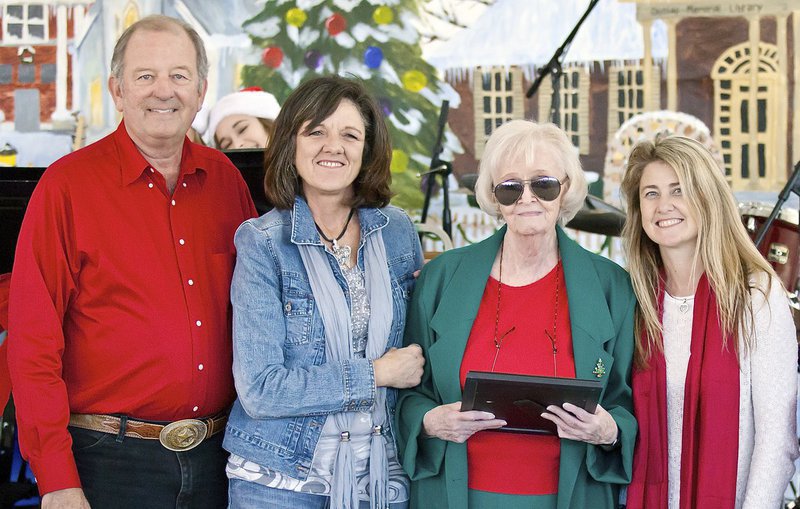 The City of Italy honored local resident, Altha McNeely, on Saturday, December 6, 2014 at the annual Christmas parade and festival. Altha moved to Italy when she was in the 4th grade. She is a long time member of First Baptist Church.
Mrs. McNeely was chosen as this year's Grand Marshall for the Christmas parade. After the parade, Mayor James Hobbs presented her with a key to the City and proclaimed December 6, 2014 Altha McNeely Day. She was also the named Citizen of the Month.
"I thought we were going to the pavilion to have my picture taken," Altha said. "It was a big surprise when they presented me with a key to the city. This is such an honor to have my own day," she said with a smile.
Altha loves Italy and has been a productive citizen for a very long time. After graduating from Italy High School, in 1948, she attended Business School of Dallas. She has worked for Elliot Addressing Machine Company, Denver Children's Hospital, The Italy News Herald, Ennis Business Forms, The Drawing Board and finally The Reporter in Hillsboro.
She married her high school sweetheart, Roy McNeely, in 1950. They were married for 47 years until his death. From their union they had three children, Stevie, Janet and Donnie. Their two sons were diagnosed with muscular dystrophy and passed away in their youth.
Altha loves writing. She is the Editor of The Gladiator, a quarterly newsletter about Italy Ex-Students. She has written books about Roy's service in Korea, the local churches of Italy, a history of Italy I.S.D. and is currently working on a history of Italy.
Before Roy passed away, they visited every courthouse in Texas. Following their travels, she wrote a book about Texas Courthouses. In addition to writing, she loves history.
"I have always love writing, but did not have time when the kids were little. After I retired, I have been writing more."
McNeely said she loves Italy because it is home. She said she loves our community because of the people here. She has always had family here so she has always felt a connection here.
When asked if she has a bucket list of things she would like to do, she said there is only one thing.
"The Class of 1948 meets every month at the Uptown Café to visit and share memories. We are a close group of friends. I just wish we could have all of the ones that are left to get together in one room one more time."
Altha is no stranger to adversity. She lost both of her sons early in their lives. She was diagnosed with cancer and her eyesight is not as good as it used to be. No matter what life has dealt her, she maintains a positive attitude and faces every day with a smile.
"I think keeping a positive attitude is due to the people around me," she explained. "I know I am not alone no matter what. My church, my classmates, my friends and my family are always there for me. I am close to so many people in our community. I know I am not alone. I would not want to live anywhere else."
She said she is very humbled to receive the honor from the City.
"I enjoyed being at the school before the parade and visiting with the people I don't get to see very often. It was exciting for me to ride in the parade and see areas of our city I don't normally get to see. It was fun waving at everyone along the parade route. I got to lead the parade and pretend I was somebody important."
Congratulations to Mrs. McNeely for your well-deserved honors. Just for the record, you are somebody important to our community.