Italy Gladiator Girls advance to Cross Country Regionals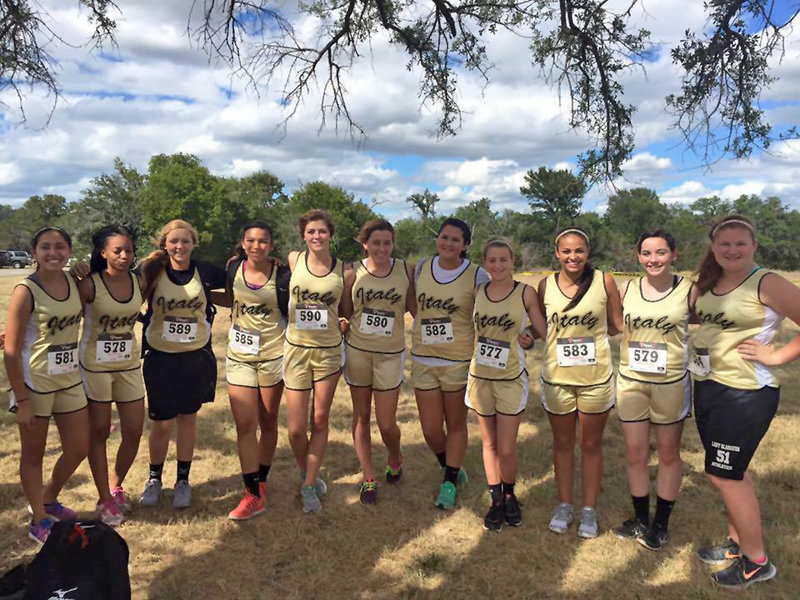 The 2015 Gladiator Cross Country team has advanced to regionals for the first time in many years. The team has come together slowly, trying to schedule between all the many events that our kids are involved within a small community.
It was decided by the head coach to compete in the JV division at larger meets while the girls acclimated to the running environment and team scoring.
In their first meet they took 3rd at Hico as they entered their first mega event run. Hico had almost 1200 runners in the varied events. The following week, at another mega event they also took 3rd in the JV division at Dinosaur Park in Glen Rose. The final event prior to district was a rough and tumble course in Grandview, complete with hills, pot holes, and cattle. The girls placed 2nd.
Entering runners in both a JV and Varsity division at the district meet, the Italy JV team placed second, with Britney Chambers taking the bronze and Ashlyn Jacinto, Brycelen Richards, and Janae Robertson also medaling.
In the varsity division, Blooming Grove won the gold, but the Italy runners upset Itasca 55-52 to take 2nd and advance to the Regional meet. 2014 Gladiator MVP, T'Keyah Pace took 3rd overall and teammates Marlen Hernandez and Halee Turner also medaled; while Jozie Perkins, April Lusk, Taylor Boyd, and Lillie Perry earned the needed points to advance.
Regionals for Region 2 will be at Grand Prairie on Monday the 26th of October.
Info submitted by Johnny Jones (Head Cross Country, Asst. Softball)
Carpe Diem Lady Gladiators!!!