Images from the first annual Fall 2015 Sports Banquet at Italy High School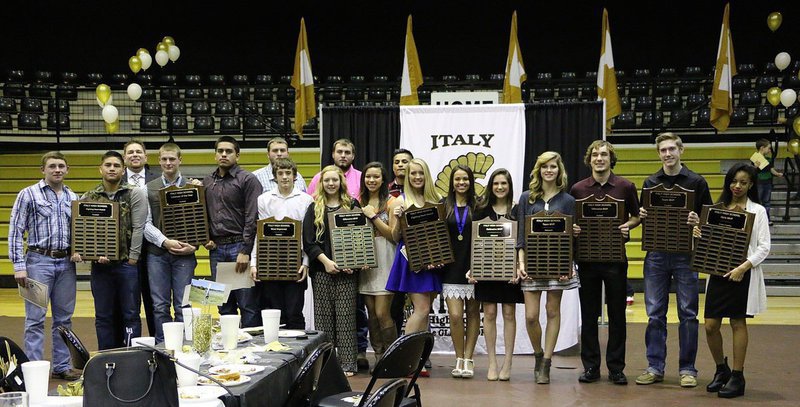 Enjoy images from the first annual Fall 2015 Sports Banquet hosted by the Italy High School Athletic Department and Booster Club. The event honored Cross Country participants, Cheerleaders, Volleyball Teams and Football Teams during a ceremony held inside the Dome. Bar-B-Q was served along with tea and desserts.
The evening began with the benediction from Britney Chambers followed by Athletic Director/Head Football Coach David Weaver welcoming everyone from the community. Principal Lee Joffre then introduced the Fall senior athletes, including: Jaray Anderson, Britney Chambers, Cassidy Childers, Ryan Connors, Austin Crawford, Micah Escamilla, Jorge Galvan, Ashlyn Jacinto, Levi McBride, Hunter Merimon, Clayton Miller, Jozie Perkins, Lillie Perry, Janae Robertson, Halee Turner, Hannah Washington, Taleyia Wilson, Ty Windham and Mason Womack.
After presenting his JV and Varsity teams with participation and all-district certificates, Coach Johnny Jones announced T'Keya Pace as the Cross-Country MVP.
After the JV Cheerleaders received participation certificates, the Italy Varsity Cheerleaders each received certificates and a much deserved medal honoring their year-round efforts presented by Cheer Coach Jenna Chambers. The 2015-2016 Varsity Cheerleaders are Captain Britney Chambers, Co-Captain Ashlyn Jacinto, Halee Turner, Kirby Nelson, Brooke DeBorde, Karson Holley, Hannah Haight, Sydney Weeks, Karley Nelson and Mascot Reagan Jones.
Coach Laquita Walker thanked varsity volleyball players Ashlyn Jacinto and Hannah Washington for their dedication support during the season before announcing them as the Co-Fighting Heart Award winners. Brycelen Richards and April Lusk were the Co-Offensive MVPs and Cassidy Childers received Defensive MVP honors. Volleyball Team MVP honors went to senior Halee Turner,
Coach David Weaver named Ryan Connor the Offensive MVP and Fabian Cortez received Defensive MVP honors. Receiving the new Co-Lineman Award were Clay Riddle and David De La Hoya. Aaron Pittmon, Austin Pittmon and Dylan McCasland shared the Most Improved Player Award. Joe Celis and John Morgan shared the Co-Fighting Heart Award and senior Clayton Miller was announced as Italy Gladiator Football's Team MVP.
Both the Volleyball and Football teams were their district runner-up and made the playoffs!
Congratulations to all the athletes and coaches on having successful Fall sport seasons. We are already looking forward to the Spring banquet!!
Special thank to the members of the Gladiator Athletic Booster Club under the guidance of President Misty Escamilla. AD/HFC David Weaver, his coaching staff, all the athletes and the school administration also send out a big Gladiator thank you to all the community members and businesses for their donations, time an assistance on behalf of the athletic program.
Go Italy!