Italy Football's Clayton Miller to play in 8th Annual FCA All-Star Victory Bowl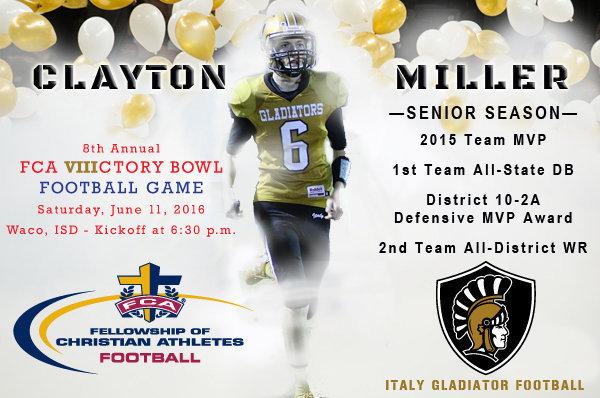 Heart of Texas FCA (Fellowship of Christian Athletes) Victory Bowl Football Game
The Central Texas All-Star football game pulls graduated seniors from the 12 county area the Heart of Texas FCA covers. Within the area are 92 high schools of every classification in Texas. Coached by local head coaches, players and cheerleaders are nominated by their coach or cheer sponsor and are selected by each of the Victory Bowl coaching staffs. Victory Bowl week begins the Wednesday before the game and is filled with service projects, entertainment, practices, clinics, and much more!
Italy Gladiator Senior All-State Defensive Back Clayton Miller will be representing the old gold and white during the 2016 8th Annual FCA Victory Bowl All-Star Football Game. Miller becomes the sixth Gladiator to compete in the bowl game.
FCA Victory Bowl Alumni from Italy:
Jasenio Anderson — 3rd Annual
Larry Mayberry, Jr. — 4th Annual
Ryheem Walker — 5th Annual
Darol Mayberry — 6th Annual
TaMarcus Sheppard — 6th Annual
Clayton Miller — 8th Annual
The bowl game is scheduled for Saturday, June 11, at Waco, ISD with a 6:30 p.m. Kickoff time.
Tickets: $5 / Parking: $5
DONATIONS:
Monetary donations are being accepted to help Clayton meet his financial requirements in order to participate in the All-Star game. He is required to pay for his program page and for his jersey which will be a keepsake.
Contact Coach AD/HFC David Weaver at (979) 215-7009 to make a donation or contact Barry Byers at (972) 921-1231. .
Good Luck, Clayton!