Downtown parade honors Italy's Lady Gladiator State Champion track team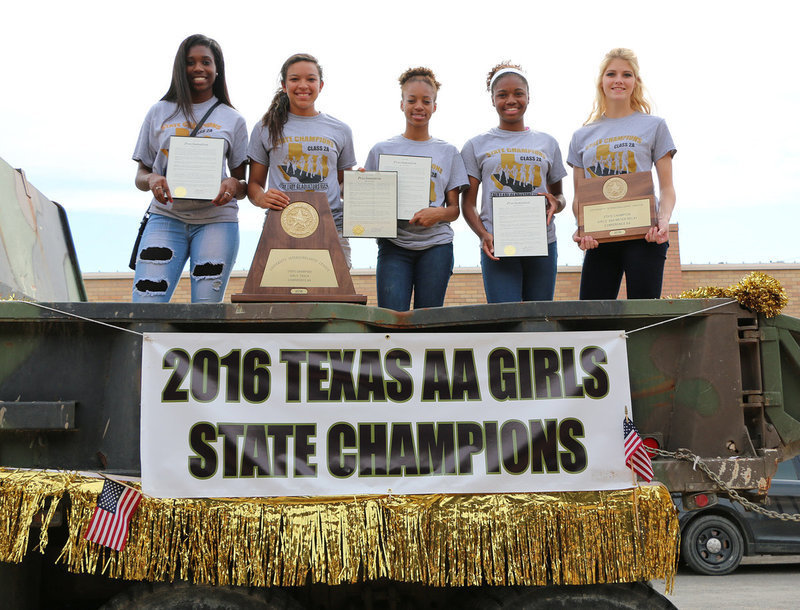 On Friday, fans enjoyed the chance to show their appreciation for Italy High School's 2016 Lady Gladiator Conference AA State Champion Track Team during a downtown parade held in their honor.
Along with a police escort, an army of Italy cheerleaders led the parade while carrying a series of banners that read, "Here Come Your Lady Gladiator State Champs!" Arriving on the back of a camouflage painted City of Italy dump truck that was decorated for the occasion, symbolic of the battle conquered and the hard work the ladies put in, the history making team held their trophies high for all to see as the sight rivaled even the tallest buildings along the route.
With even the water tower standing proud, the caravan arrived at the downtown pavilion where City Manager Ronda Cockerham introduced the team and coaches and then Italy Mayor Stephen Farmer who read a proclamation dedicated to the ladies who brought home the gold.
A well deserved applause followed the mayor's reading of the proclamation and then the honorees and coaches posed for pictures.
After the event, Coach Bobby Campbell spoke of the moment when he was going over his final instructions before the 800 meter relay race, "I could see it in their eyes, in a way that they had never looked at me before. They were focused on every word I was saying." During the speech, in an effort to add levity to the situation, Coach Campbell then told the team," The rain will only be falling on you during the race and no one else. Those were some pretty interesting looks I got then too," he said with a laugh.
And in a moment when there was no tomorrow, especially for the seniors, each team member posted a personal best time as they closed in from seventh place, down to third place and then they crossed the finish line in first place. Italy did that. State Champions in the 800m relay and overall Conference AA State Champions. And they did it without a school track of their own, with only five ladies and in the rain.
All hail the Lady Gladiators and congrats to state champion sprinters Halee Turner (Sr.), Janae Robertson (Sr.), April Lusk, T'Keyah Pace, Chardonae Talton and manager Brenya Williams (Sr.)!
Beverages were served with the team working to raise money to purchase their state championship rings. If you would like to donate to the cause, contact Italy AD/HFC David Weaver at (979) 215-7009.
Keep on trucking Lady Gladiators!