Clayton Miller represents Italy in 2016 FCA Victory Bowl All-Star Football Game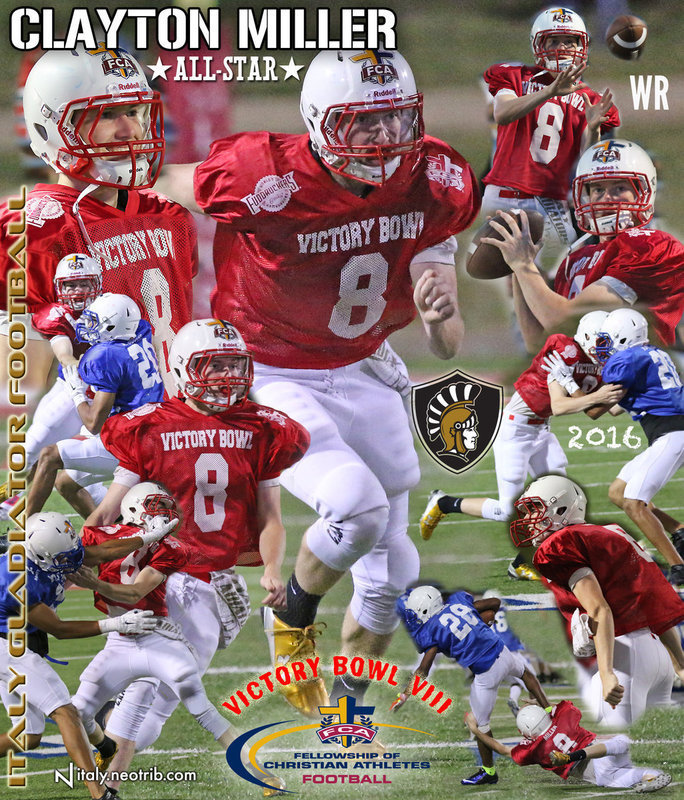 Fresh off graduating from Italy High School, Gladiator Clayton Miller still had one final moment to conquer as a representative of his school, his town and his family. Honorably selected to participate in this summer's Fellowship of Christian Athletes Victory Bowl All-Star Football Game, Miller was ready to go when he arrived at the Waco ISD football stadium to put the final touches on his stellar football career.
A 2012 freshman on Italy's semi-finalist football team, Miller left his mark as a part of a district championship team in 2013 and a district runner-up squad in 2015. Already recognized as a sure tackler in the secondary and on special teams, Miller rose to new heights as a clutch receiver for the Gladiators in his senior season. Eventually making the Gladiator Golden Wall of Fame as an All-Sate Defensive Back in 2015, after being named his district's Defensive MVP, it was Miller's catching abilities that landed him on the Red Team's All-Star roster at the Victory Bowl.
It was a close game and a true defensive battle with the Blue side taking a 7-0 lead into the halftime break. Red's best chance at scoring in the first-half came when they threw a post route to Miller down inside the 10-yard line. On the play, Miller was forced to turn defensive back in midair to keep team Blue from intercepting the up for grabs toss.
Miller's Red team eventually scored in the third-quarter to make the game 7-6. To avoid a tie and a possible overtime, Red tried for the two-point conversion with a left off-tackle run play but was stopped short of the stripe to keep the score 7-6.
With a 1:10 remaining, a desperation heave downfield by the Reds resulted in a juggling catch being made in double coverage by one of Miller's receiving teammates. The foot race was on with Miller trying to provide downfield blocking as a small convoy of red and blue jerseys dashed down the center turf toward the game's final destiny.
The Red's killed the clock and then setup a possible game-winning field goal attempt from the 11-yard line. Miller's was on the field as a blocker when the kick sailed wide-left and then witnessed the final 0:19 of his high school career from the sideline with the final score Blue 7 and Red 6. In a show of good sportsmanship, Miller and his Red teammates graciously congratulated the Blue squad on their effort and ultimate victory as the two sides united at midfield for prayer and award presentations.
More important than the final score in these types of all-star games is the fact that all of the participants were here representing their schools because they had each done the right things in their careers , were considered campus leaders and earned respect from their high school coaching staffs just to be nominated. And with that, Miller was a perfect representative for Italy as he worked with coaches and other student-athletes from across Texas.
"I had a great week of practice, making some standout catches during our offense versus defense practice sessions. I was feeling confident going into the game and was excited about testing my skills against what I knew would be the best cornerback I had ever faced from the Blue defense. I just wanting to run good routes and prove to myself I could get open," shared Miller during the ride home back to Italy. Then he put his arm over the front seat and looked back at me to say, "This experience has helped me to better appreciate just how lucky we are to have been a part of the Italy tradition. As Gladiators, we're sort of unique in our desire to do well. I just kept thinking about doing a good job for my town and family."
Congratulations, Clayton! Go Italy!!