Italy HS welcomes new band director Jonathan VanOmmeren; Perez goes to Heritage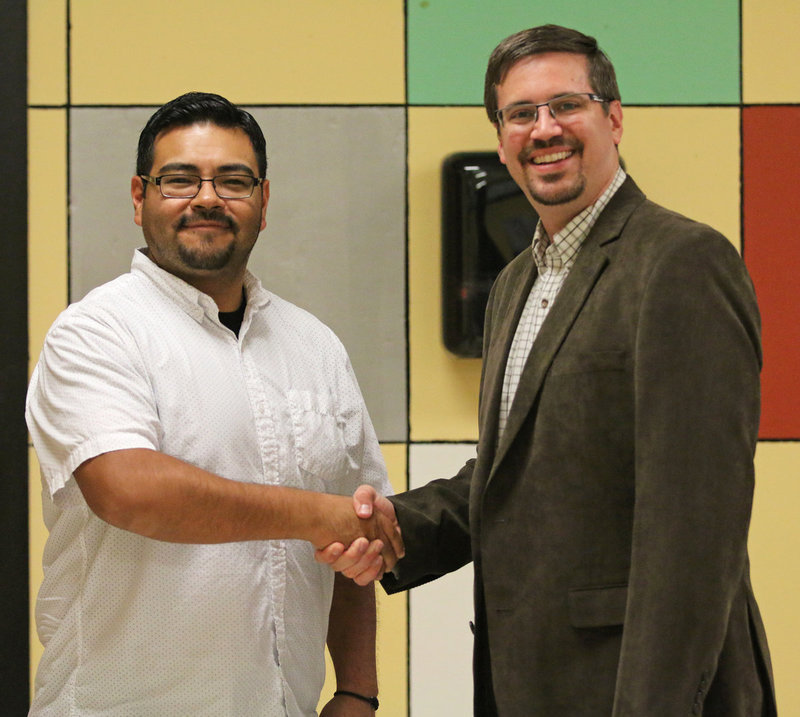 During a meet and greet on Friday, Italy High School and the community welcomed its newest band director, Jonathan VanOmmeren, and his wife, Aimee, while enjoying cake and punch inside the school cafeteria.
The event also gave band supporters a chance to say their final goodbyes to former band director, Jesus Perez, who will be taking his proving skills to Midlothian Heritage High School where he will be primarily overseeing middle school and elementary band members within the district. Concentrating his efforts on the percussion division, Perez hopes to eventually form his own band within Heritage's music department.
Perez leaves behind quite a legacy while inspiring the Gladiator Regiment Band to new heights during his 10 years of musical guidance and commitment. Its that existing foundation of success that has VanOmmeren excited about joining the Gladiator family. VanOmmeren plans to add to the accomplishments of the band by focusing on individual band members in order to make the band even stronger as a group.
VanOmmeren and his wife met while attending Evangel University in Springfield, Missouri. Both were members of the EU Marching Band and they have been making beautiful music together ever sense. VanOmmeren has been an assistant band director for the past 11 years with Italy to be his first band director position. His most recent accolades are leading his indoor drumline division to a state championship while an assistant at 6A North Shore Senior High School located in Houston. The concert band he directed also achieved all 1st Divisions to win the sweepstakes.
Aimee will going back to school to finish her masters degree in counseling while subbing, when needed, for school districts in the area. The VanOmmeren's have two daughter's, Maeryn (1st Grade) and Noelle (Pre-K).
Helping to ensure VanOmmeren and Gladiator Regiment Band members make a smooth transition into the new era for, "The Beat of Champions," is assistant band director, David Graves, who will be remaining in Italy.
Italy ISD, the City of Italy and Gladiator Nation welcome the VanOmmerens' into our community with flags waving as we say farewell to our Mr. Perez who gave his heart and soul to the students at Italy High School, as well as, creating the Stafford Elementary Band which will also be continuing forward.
Go Gladiators!