Italy will be a force in district if Gold vs White Scrimmage is any indication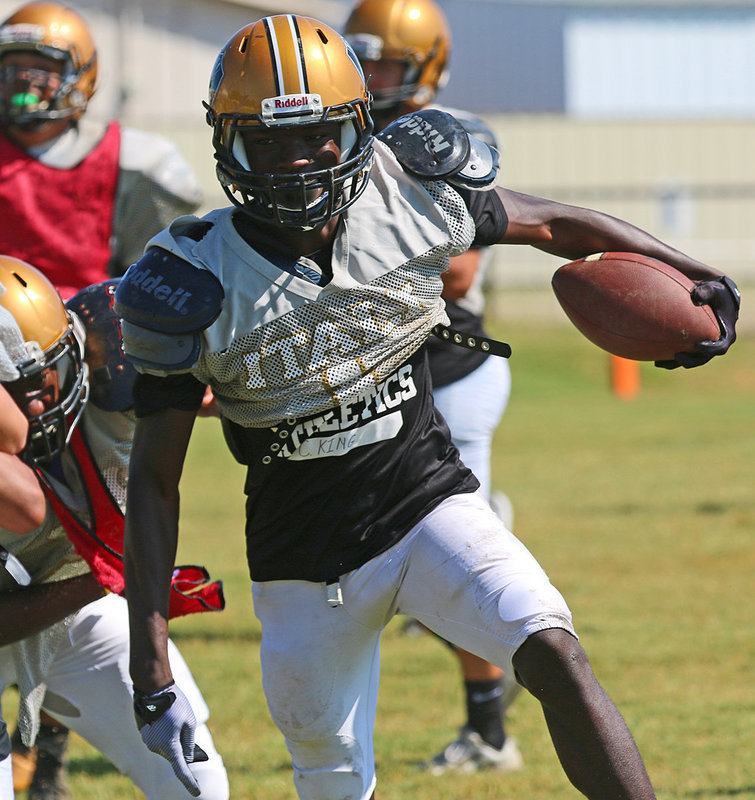 Willis Field, Italy, Texas — During their annual Gold and White Scrimmage on Saturday, the 2016 Italy Gladiators put on a solid performance for their fans with big play after big play.
Overall, the offense showed explosive potential with several skill backs reaching the endzone before the exhibition ended. In his second season at the reins, Head coach and Italy ISD Athletic Director David Weaver, along with his staff, are willing to spread the ball around and the players are responding. The catches vastly outnumbered the drops in the passing game and the touchdown runs were a sight to behold.
Loaded with power backs, speed backs and a good mixture of size and speed on the offensive line, the Gladiator offense has a realistic chance to light up the scoreboards this season. Quarterback Kevin Johnson looked extremely comfortable navigating the offense most of the day while fellow quarterback Joe Celis was on the mark to the receivers.
Speaking of receivers, Keith Davis, Jr., Dyland McCasland, Kendrick Norwood, James Walton, Kenneth Norwood, Chasston Wilson and Christion Washington all had at least one catch during the scrimmage. Two of the catches went for touchdowns with Davis and Washington turning their grabs into 6-points each.
Just as impressively, Johnson, Wilson, Kendrick Norwood, Davis and Adam Powell recorded rushing touchdowns with Johnson going the distance twice on runs longer than 50-yards and Wilson and Davis both scoring from beyond midfield as well. Also, making an impression in the running game was Al Waits who executed several long bursts for the Gladiator offense.
The O-line features Alex Garcia will be the center this season with guards John Morgan and Austin Pittmon flanking him. Aaron Pittmon will be at the left tackle spot and David De La Hoya will be at the right tackle spot.
It's nice to have weapons when going into battle and Italy has plenty of ammo, and their eyes are locked in on the target.
Defensively, end Clay Riddle and tackle Kenneth Norwood will head up what could be a rough and rowdy defensive front, capable of wreaking havoc on opposing backfields. Italy's offensive speed will transfer over nicely to the defensive side of the ball, especially in the secondary, where an interception was made on play 3 of the scrimmage by Waits..
Yep. Expect this to be a fun and exciting season folks! The Gladiator have returned in full force and are prepped to make another run at the playoffs for the second straight season under Weaver's direction.
Go Gladiators!