Italy Gladiators (3-0) spoil Blooming Grove's homecoming with 42-0 shutout win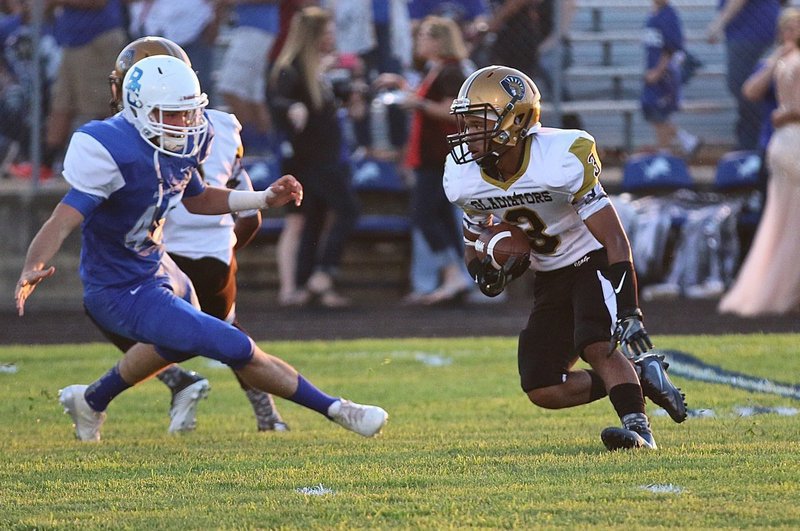 Blooming Grove — After opening their 2016 campaign with wins over Valley Mills, 23-2, and Mildred, 41-21, the Italy Gladiators shutout Blooming Grove Friday night, 42-0, to improve their non-district record to 3-0.
BG tried to plow their way down the field by running between the tackles but Italy's linebackers, led by Fabian Cortez, Joe Celis and Christion Washington, were quick and physical when filling the holes. Italy's defensive line, led by Clay Riddle, Kenneth Norwood, Jr., and noseguard Terry Dixon, were just as aggressive causing the Lions to struggle offensively throughout.
Italy delivered its first mighty blow when quarterback Tylan Wallace connected with Jeremiah Thompson for a 71 yard catch-and-run to put Italy up 7-0 early the first-quarter. Newcomer, junior kicker Mauro Ibarra ,kicked the PAT for Italy with Keith Davis II holding and John Morgan snapping.
Blooming Grove threatened to tie the game in the second-quarter but a Lion fumble inside Italy's 5 yard line resulted in a scoop and score from long-range for the Gladiator defense. Senior Chasston King did the honors as he sprinted untouched to the opposite end of the field for a 94 yard game changing fumble return for a touchdown. Again, Ibarra booted thru the PAT to extend Italy's advantage, 14-0.
Italy struck again when senior Keith Davis II returned a punt to the Lion 5-yard line. Kendrick Norwood then frustrated the Lion defense and dazzled Italy fans with a really long 5-yard touchdown run. Kendrick Norwood's wild back-and-forth effort put Italy up 21-0 after Ibarra was good on his third PAT attempt of the contest.
Kendrick Norwood had some more showtime for Italy fans before the close of the first-half. A miscue by the BG offense resulted in the Italy speedster securing the loose ball and returning it to the house for a 44-yard fumble return for a touchdown. Ibarra added the bonus kick as the Gladiators took a commanding 28-0 lead into halftime.
Wallace remained in control of the Italy offense during the second-half helping to setup a 9-yard touchdown run by Kendrick Norwood behind the Gladiator offensive line consisting of Morgan, Aaron Pittmon, Alex Garcia, James Walton and Riddle. Italy led at the point 35-0 after Ibarra's fifth successful PAT try.
The ball-carrying skills of King, Kendrick, Norwood, Thompson, Washington and Donald Hayes kept the Lion defense on its back paws while Wallace connected downfield with receivers Thompson (3-106), Kevin Johnson (1-20), Gary Escamilla (1-7) and Keith Davis (1-5) over the course of the game. Wallace completed 6-of-11 passes for 138 yards and finished with 36 yards rushing on 6 carries.
King finished off the hapless Lions with a 13-yard touchdown run at the 10:00 mark of the fourth-quarter. King ultimately led all Italy rushers with 53 yards on just 3 carries. Ibarra put thru his sixth consecutive PAT to help ring up a 42-0 shutout win over the Lions as Italy coasted their way thru the remainder of the game.
Overcoming 3 turnovers of their own, the Gladiators would eventually take the ball away from the Lions 5 times. Ibarra went 6-for-6 on PAT kicks, proving his leg to be a valuable weapon for the Gladiators. Italy's Escamilla, a junior, punted twice for a 28 yard average.
The win marks Italy's third straight road win to begin the season under second-year head coach David Weaver. Italy is now preparing to hit the road again to take on Hico for their fourth pre-season matchup. The game will be in Hico on Friday, September 16, starting at 7:30 p.m.
Glad to see Mr. Kenneth Norwood feeling well enough to attend the game to cheer on his boys, Kenneth and Kendrick! Wishing you continued good health, Big Ken!
Go Italy!