Support Zain Byers and his Austin College teammates Saturday in Waxahachie @ 6pm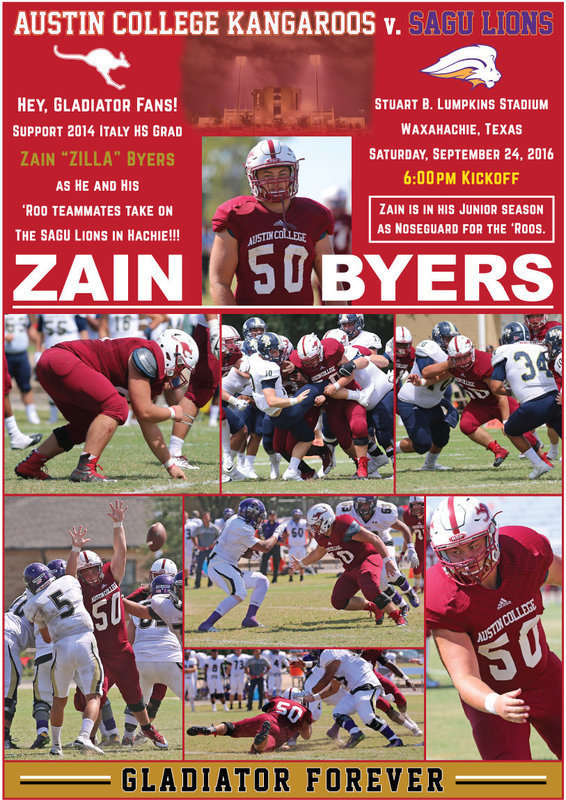 Hey, Gladiator Fans! Support 2014 Italy High School graduate #50 NG Zain "Zilla" Byers as he and his Austin College Kangaroo teammates take on the SAGU Lions at Waxahachie's Stuart B. Lumpkins Stadium on Saturday, September 24. Kickoff set for 6:00 p.m.
Thru 3 games of the 2016 season, Zain, now a junior, ranks 27th among the top 50 tacklers within the SCAC (Southern Collegiate Athletic Conference / NCAA DIII). He is also in a 4-way tie for fumble recoveries with 1 and is in a 6-way tie for forced fumbles with 1.
The Austin College Kangaroos, head coached by Loren Dawson, are 2-1 on the season after consecutive wins over Howard Payne, 19-17, and over Whitter College (from California), 30-17. AC's only loss came in week 1 against Hendrix, 55-23.
Zain's stats thru 3 games are 3 solo tackles, 7 assisted tackles, 10 tackles total, 1 forced fumble, 1 recovered fumble, 1 pass disruption. He is in a 3-way tie among the Austin College defensive line troop for most total tackles with 10 along with teammates Hayden Schilling, Muenster / Sacred Heart Catholic, and Bryce DeVaughn, Frisco. The defensive coordinator for the Kangaroos is Mike Silva.
Zain has started 13 games for the Kangaroos at the nose guard position and the 'Roos have posted a 7-6 win loss record over the course of those outings.
Zain, the son of Barry Byers, Italy, and Tammy Lenee Boyd, Colorado, played 2 seasons with the IYAA (Italy Youth Athletic Association), 1 season of select football for the Waxahachie Longhorns and then finished his Jr. High, JV and Varsity football for Italy ISD where he became a 2-time all-state defensive end for the Gladiators.
Zain is currently working on his education degree at Austin College and is doing his student teaching this semester at Tom Bean High School.
Event Note:
During halftime, be sure to check out local youth sports coach, Jasenio Anderson, Italy, and his 1st-2nd Grade youth flag football team called the Gladiators. The team consists of players from Italy, Itasca and Avalon and they compete thru the Waxahachie YMCA league. The Gladiators will be participating in an exhibition contest during intermission. Also on the coaching staff are Eric Enriquez, Italy, Detrick Green, Italy, and Lazaro Villarreal, Hillsboro.
#68 NG Zain Byers Highlight Video / Collegiate Sophomore Season 2015
#50 DE Zain Byers Highlight Video / Senior Season / Italy High School 2013
#50 DE Zain Byers Highlight Video / Junior Season / Italy's 2012 State-Semifinal Run
Good luck, Zain! Go 'Roos!!