Deadline Friday for Italy's Senior Ads for the homecoming program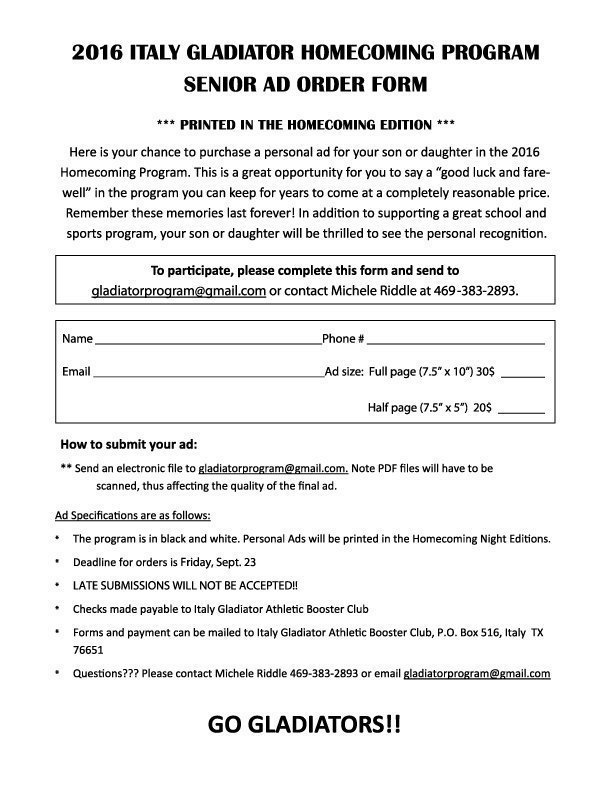 The deadline for Italy High School Senior Ads is this Friday, September 23, for the homecoming program.
Here is your chance to purchase a personal ad for your son or daughter in the 2016 Homecoming Program. This is a great opportunity for you to say a "good luck and fare-well" in the program you can keep for years to come — at a completely reasonable price.
Remember, these memories last forever! I addition to supporting a great school and sports program, your son or daughter will be thrilled to see the personal recognition!
To participate, please complete the attached form and send to gladiatorprogram@gmail.com or contact Michele Riddle at 469-383-2893.
Ad Sizes:
Full page (7.5" x 10") — $30
Half page (7.5" x 5") — $20


HOW TO SUBMIT AN AD:
Send an electronic file to gladiatorprogram@gmail.com. NOTE: PDF files will have to be scanned thus affecting the final quality of the ad.
Ad Specifications are as follows:
The program is in black and white. Personal Ads will be printed in the Homecoming Nigh Editions.
Deadline for orders is Friday, Sept. 23
LATE SUBMISSIONS WILL NOT BE ACCEPTED!!
Checks made payable to Italy Gladiator Athletic Booster Club
Forms and payment can be mailed to Italy Gladiator Athletic Booster Club, P.O. Box 516, Italy, TX
Go Gladiators!