Italy's David De La Hoya to participate in 2017 FCA Victory Bowl in Waco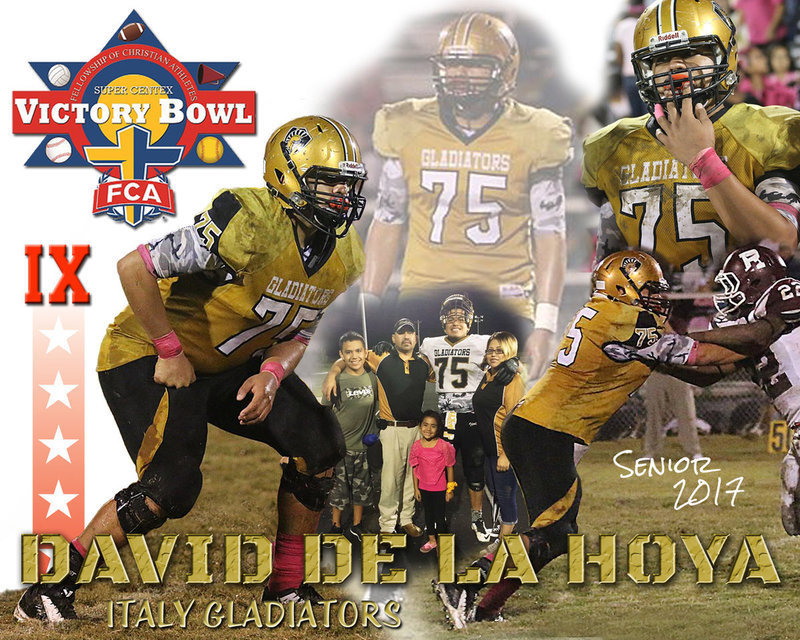 Waco, Texas — Italy High School senior football student-athlete David De La Hoya has recently been selected to participate in the 9th Annual 2017 Fellowship of Christian Athletes Super Centex Victory Bowl All-Star Football Game. The game will be played at Waco ISD Stadium on Saturday, June 10, with the kick-off set for 6:30 p.m. following the end of an uplifting week of practices, service projects and much more. $5.00 Tickets / Free Parking.
The son of Nachis and Isidro De La Hoya,Italy, David was an offensive tackle, a defensive lineman and a kicker during his final season for Italy. David will be the 7th Gladiator to represent in the Victory Bowl as did former Gladiators' Jasenio Anderson, Ryheem Walker, Larry Mayberry, TaMarcus Sheppard, Darol Mayberry and Clayton Miller.
"Congratulations David on being selected and good luck to you and your fellow All-Star players and coaches!"
---
Donations:
All-Star players are required to pay in order to participate. The fees cover their personal ad in the program and the cost of their jersey each player will get to keep as a memento.
Please contact Italy High School AD/HFC David Weaver to submit a donation to help David meet his requirements. .
David Weaver: dweaver@italyisd.org / 979-215-7009
— Thanks everyone for your support of our student-athletes! —
---
2017 FCA Super Centex Victory Bowl
Upcoming Victory Bowl Events:
February 12th:

Player Press Conference (Highland Baptist Church)



April 9th:

Victory Banquet (Ferrell Center) Keynote Speaker: TBA



June 7th:

Players and cheerleaders report (University High School) and (University of Mary-Hardin Baylor)



June 9th:

2nd Annual Victory Bowl Baseball and Softball Games (UMHB) — 6:30 p.m.)



June 10th:

4th Annual Victory Bowl Volleyball Game (University High School – 12:30 p.m.)
9th Annual Victory Bowl Football Game (Waco ISD Stadium – KICK OFF at 6:30 p.m.)