Saying Goodbye to an Ellis County Icon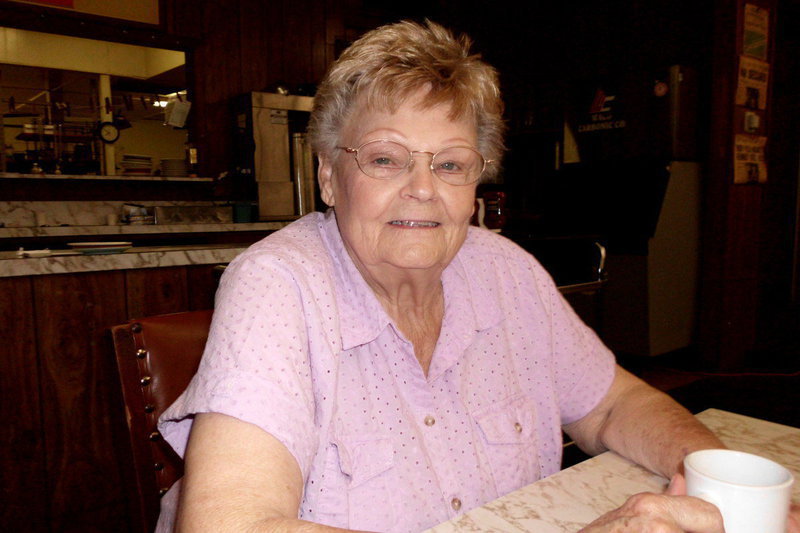 When someone passes away, the loss is felt by their family and friends. Other times when a person dies, because they are well known and loved throughout Ellis County, the loss is magnified.
This is what happened on Wednesday. Doris Mitchell, long time Ellis County resident, passed away at her home in Italy, surrounded by her family. She had been diagnosed with cancer for a second time about a year ago and fought her battle with faith, courage, dignity and grace. The loss that those that knew and loved her are feeling is hard to put into words.
Doris was the owner of the Uptown Café in Italy for 26 years. She started grilling burgers at Oma's Jiffy Burger many years ago. She also owned a café in Waxahachie and the Burger Barn in Italy. For over 32 years Doris fed the masses. Her "Doris Burgers" and home-made pies were famous throughout Ellis County and beyond. Her customers included famous actors, musicians, politicians, law enforcement officers, doctors, attorneys, business owners, farmers, ranchers, athletes and just down home country folks.
Out of all the folks she knew throughout Ellis County, her favorite people were the kids and teenagers that came into the café. They all lovingly called her "Nana". Many times those kids would come in with no money, but she fed them anyway. She loved serving meals to the Italy Gladiators and Lady Gladiators . She loved and nurtured her "kids" for years. She supported them on and off the field or court. She was always one of their biggest fans. Hugs for them were always free flowing at the Uptown.
The café was also the place people called to find out who died, who went to the hospital and even get phone numbers for businesses and residents. Doris said that they were the 911, 411 and 311 for Italy. The Uptown was not like any other café anywhere in this area. If a regular customer could not come in to eat at the café, Mitchell and her crew would deliver their meals six days each week. This enabled many of them to stay at home instead of going to live in a nursing home.
She would tell anyone that the people that came into the Uptown were not just customers, they were family. This was one of the reasons everyone felt so at home at her Uptown. She fed at least four generations of many of the local families at the Uptown.
She had a servant's caring heart. Several years ago she realized that there were people that had no where to eat on Christmas Day so she decided to open the café and cook chicken and dressing with all the trimmings for them. Her customers heard about this and the annual Uptown Café Christmas pot luck was born. Customers helped pay for the meal and others brought dishes to share. On this one day each year the community came together to share a special time. Doris helped everyone there realize the true meaning of Christmas and what it meant to love others.
The Uptown Café closed on September 12, 2016. The café was gone forever, but the memories made there will never be forgotten and neither will Doris Mitchell. Ellis County has lost someone very special, one of the most loving, giving persons this community has ever known.
"Sometimes we think of those monuments of people gone by, statues in old parks, standing by old courthouses; Doris will not have such a statue. Her statue can be measured in children's hearts, all of those kids that called her Nana, both related and unrelated in Ellis County. Her statue is the love of so many built minute by minute over the years," said Johnny Jones, one of Mitchell's friends.
"The statue could be built by the love of children, including my own. Jo would come home and I would ask what she wanted for supper and she would answer Nana fed her. Nana would feed her, but never take money for feeding her, She fed so many of the coinless waifs of our little town,"
"I figured out that was where the honor box came in handy. In her business, she had an honor box. If you didn't want to wait to pay, you knew how much you owed and that amount went into the honor box and she trusted you to do right, And most did and those that didn't, well they did not cheat Doris, they cheated themselves out of a chance to do right by a good person."
"I am very sorrowful at her passing, but I feel bad for me, not her. I had visited her in the past few months and saw the daily struggle it was to maintain life, Death has released her from the struggle and pain. No, I feel sorry for me, that sometimes in the past maybe I did not savor the friendship that was there for all who wished to share in it. I feel bad for her kids and grandkids, especially the little ones that were not old enough to know what a treasure gifted the people of Italy."
"Her business was downtown but always a fun place to be, it had the upside of downtown, this Uptown Cafe. I was angered when she was forced to leave the business, angry at no one person, but at fate that had dealt the rough cards to a sweet lady. Now I see, she was being protected in her last year. I am truly very happy to have been a friend of a special lady."
---
The visitation for Doris Mitchell will be on Saturday, March 4th from 6:00 to 8:00 at Wayne Boze Funeral Home in Waxahachie. The funeral will be on Sunday, March 5th at 3:00 p.m. at the Italy High School Dome.