Ellis County Equine Association Honors Its Winners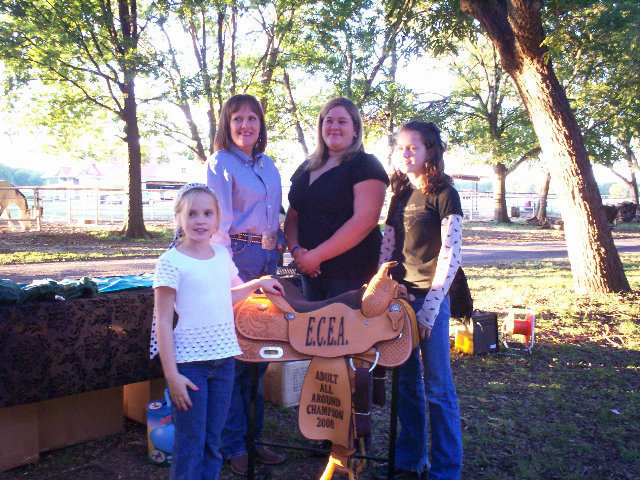 Buckles were shining and the smell of new saddles was in the air recently as Ellis County Equine Association (ECEA) awarded its year-end winners at the club's annual awards banquet at the Flying Dollar Ranch in Italy.
After a BBQ dinner, the presentations kicked off with Tracey and John Friedmann of Waxahachie winning the Randy McMullan Spirit Award. Julie Hinz of Italy and Becky Hansen of Crandall were then awarded the Charlie Huff Hall of Fame Award, which is given to long time ECEA members dedicated to the club. And the Nancy Jessup Youth Sportsmanship Award, which is voted on by the youth members, was awarded to Rebecca Stimpson of Dallas.
ECEA awarded saddles to the top all-around competitors in four age groups. The riders had to show their horses in halter, western and English events in at least three of five shows to earn enough points to clinch the saddle. Shows were held at the Navarro County Exposition Center in Corsicana April through August.
Marley McElwee of Flower Mound captured the 9 & under all-around championship with her Paint horse Hot Shot Of Crown. Danie Mabry of Winnsboro and her Paint gelding, A Dandy Fleet, won the 10-12 championship. Brittany Banks of Covington and her Palomino, Detailed In Gold, nabbed the 13 -18 division. Vicky Taylor and her Quarter Horse mare, Hand Maid By Cool, took home the adult saddle for the second consecutive year.
Buckles were presented to the winners of high point English and western divisions in the four age groups as well as yearling performance, many halter divisions, and reigning. All children who participated in four ECEA activities throughout the year received participation trophies and lead line riders who qualified in three shows won Painted Pony collectable statues.
In addition to hosting the saddle series, ECEA hosts free equestrian clinics, trail rides, and general membership meetings throughout the year. Anyone interested in joining the club, may attend a general membership meeting, which are held the third Thursday of every month at the Waxahachie Chamber of Commerce at 7:30 p.m. Or, look on the web at Ellis County Equine Association website, or call Julie Hinz at 972-483-7774 for more information. The 2009 horse show dates are scheduled for April 4, May 2, June 6 and July 11.