UPDATE!…Italy's First Annual Christmas Festival and Parade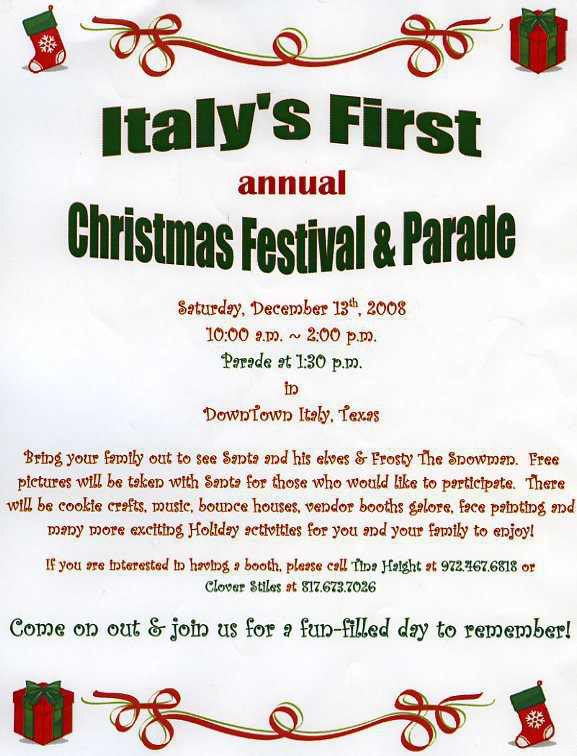 Saturday, December 13th from 10:00 AM to 2:00 PM the city of Italy will have it's first annual Christmas Festival and Christmas parade.
Santa Claus, his elves and even Frosty the Snowman will be on hand. Santa will take pictures with your child.
They have also added even more fun to this festival. They will have cash prizes! They will have "Santa" size cash and "Elf" size cash prizes. But they aren't stopping there, oh, no – they will also be giving out: an Ipod, a Nintendo DS, a Brighton Purse, Brighton Jewelry, a bicycle and much, much more.
This is going to be a good time. There will be a Santa's Workshop where Christmas crafts will be made, along with music,bounce houses, vendor booths galore, face painting and many more exciting Holiday activities for you and your family to enjoy while local church choirs perform Christmas songs.
What would a Christmas celebration be without a Christmas parade? Don't worry there will be a Christmas parade and it will be starting at 1:30 PM.
Free vendor booths will be offered (currently have 42 vendors to attend) for those who would like to sell their crafts, baked goods, food items, etc. Everyone that has a booth is asked to meet at the Uptown Cafe at 9:00 AM to get your booth assignment.
Where does this all take place, you might ask, downtown Italy, TX of course.
Clover Styles, one of the event's coordinators, said," We would like to have more people sign up for the parade. We would like to have more floats. We have decided to have this Christmas Festival to bring the community together to celebrate the coming Christmas season."
If you would like to participate in a booth, or volunteer, or would like to be in the parade you contact: Clover Stiles – 817-673-7026 or Tina Haight – 972-938-1400 or email – tinahaight@aol.com.
See you there!