Plan your holidays with our calendar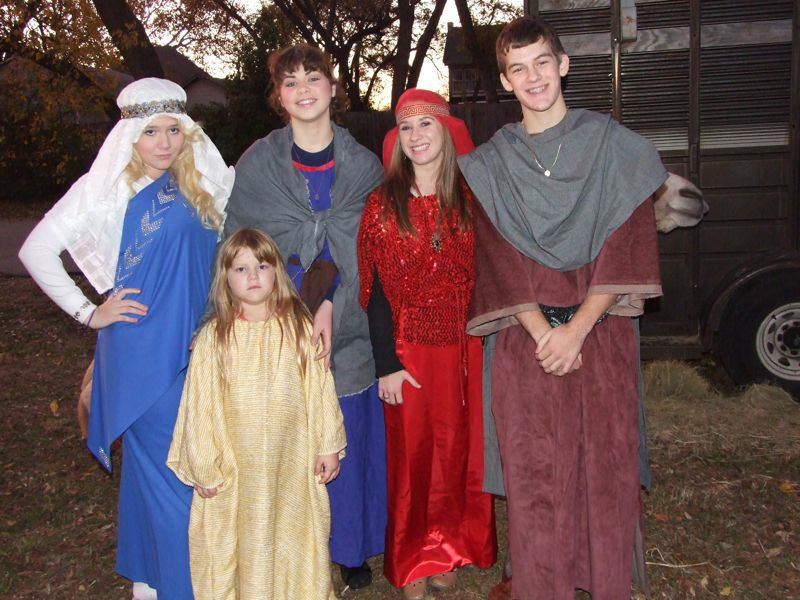 The holidays are here! There are so many activities that can fill your upcoming days and we list a few here for you. You and your family can have many opportunities to celebrate the upcoming season in style.
ITALY
Dec 4-6 (Thurs-Sat) Italy High School will host a Basketball tournament that includes young men's and young women's teams. Teams from Milford, Mildred, Venus, Covenant Christian, Ferris, Malakoff, All Saints, Palmer and Kerens will participate in the games. Beginning at 9:00 am on Thursday and ending with the championship game on Saturday at 7:30 pm at the dome.
WAXAHACHIE
Bethlehem Revisited will begin Friday evening at 6:00-9:00 pm and run on the 5th and 6th. Next weekend it will be 12th, 13th and 14th. Bethlehem Revisted is located behind the Central Presbyterian Church. Travel back in time and visit the days when Christ walked the earth. Follow Mary and Joseph as they enter into the city on their donkey to pay their taxes and look for a room at the inn. No entrance fee; however, donations are accepted at the gate. Call 972-937-2390 for more information. Candlelight Christmas Homes Tour and Downtown Victorian Christmas Festival, Dec 6-7, 13-14 are also included in the festivities.
ENNIS
Festival of Lights Parade, Dec. 4th, downtown. For more information visit their website or call 972-878-4748.
SALADO
"A Christmas Carol" Dec 5-6, and 12-13 at Tablerock Festival of Salado. For more information see their website or call 254-947-9205.
SAN MARCOS
Sights and sounds of Christmas, Dec 4-6. Nearly 600,000 lights illuminate the banks of the San Marcos River. For more information see their website or call 512-353-1258 or 888-200-5620.
"Texas Monthly" suggests the following:
AUSTIN
CONSPIRARE Christmas at the Carillon with Eliza Gilkyson—equal parts sacred and secular music, this year's holiday performance is sure to one-up last year's since Gilkyson, one of the most respected singer-songwriters in folk and Americana circles, is lending her voice. Dec 6—10. Mon—Wed at 8, Sat at 7:30, Sun at 2:30. Dec 6: Our Lady of Victory Cathedral, 1309 E. Mesquite Ln, Victoria; $20—40. Dec 7, 9 & 10: The Carillon, 2630 Exposition Blvd, Austin; $65. Dec 8: The Long Center for the Performing Arts, 701 W. Riverside Dr, Austin; $16—$50. For more information see their website. Various locations (512-476-5775).
"Pinocchiio" Dec 6. The famous puppet comes to life in an American Family Theatre production at One World Theatre. Check out their website or call 512-329-6753.
"Manuel Barrueco" Dec 6. The classical guitar master performs at Northwest Hills United Methodist Church. See their website or call 512-300-2247.
DALLAS
NEIMAN MARCUS ADOLPHUS CHILDREN'S PARADE The holiday season doesn't officially start—in Dallas, at least—until this parade winds its way through the streets of downtown. The early-morning procession has become such a local tradition that it's hard to believe it is only twenty-one years old. Some 350,000 revelers will brave chilly temps (and millions more will watch it live on national TV) to see their favorite characters, colorful floats, marching bands, and giant balloons zig and zag along the sixteen-block route. This year's theme is Santa's Whimsical Workshop. Dec 6 at 10am. Free; reserved bleacher seating $20. For more information view their website. Parade starts at Austin & Commerce and ends at City Hall Plaza at Ervay & Akard (214-456-8383).
EL PASO
SAN JACINTO PLAZA CHRISTMAS TREE LIGHTING An El Paso tradition since 1936, the lighting of a giant, live Christmas tree illuminates the plaza with five thousand light bulbs (amber, blue, green, and red) and more than five hundred ornaments. Adding to the majesty are an additional sixteen trees inside the plaza, 21 sidewalk trees, and 11 palm trees all strung with lights. Dec 6 at 4:30. Free. For more information check out their website. San Jacinto Plaza, 111 E. Mills Ave (915-544-5436).
FORT WORTH
CHRISTMAS IN THE STOCKYARDS Throw a little yee-haw into your holiday season at this western-themed family celebration, featuring chicken roping, a horsemanship clinic, melodramas, a petting zoo, a visit from the Stockyards Cowboy Santa, a Texas-size parade, and the lighting of the forty-foot Christmas tree. Dec 6 from 1—6. Free. For more details, see their website 130 E. Exchange (817-625-9715).
"The Nutcracker" Dec. 5-21 with the Texas Ballet Theater. Bass Performance Hall. For more details, go to their website or call 877-828-9200.
Handel's "Messiah" Dec. 9 at Bass Performance Hall with the Fort Worth Symphony Orchestra. View their website or call 817-665-6000.
GONZALES
Stars over Gonzales, Dec 5-6 and 12-13 at the Pioneer Village Living History Center. Call 830-672-2157 for more information.
GALVESTON
DICKENS ON THE STRAND The island is outfitted in its Victorian holiday best during this thirty-fifth annual family festival. Ready yourself for six stages of entertainment, three parades, strolling carolers, roving bagpipers, costumed vendors, Scrooge's Scavenger Hunt, and more. This year's festival will be the first major event to be held in Galveston's historic downtown in the aftermath of Hurricane Ike and proceeds will go toward post-Ike recovery efforts. Dec 6 & 7. Sat & Sun 10—6. Gen adm $12 ($9 adv), children 7—12 $6 ($4 adv), 6 & under free; those dressed in full Victorian costume half-price. For more information, you can see their website. Along the Strand (877-772-5425).
HOUSTON
ALLEY THEATRE Thru Dec 28: The Santaland Diaries—witty writer David Sedaris's real-life stint as Crumpet the elf at a Macy's department store spawned this comedy about (faking) Yuletide spirit. (This bitingly sarcastic tale is for adults only.) Tue—Fri at 7:30, Sat at 2:30 & 7:30, Sun at 2:30. Thru Dec 28: A Christmas Carol—Scrooge, Tiny Tim, and the rest of the gang get into the holiday spirit in this Dickens classic with original music by John Gromada. Tue—Fri at 7:30, Sat at 2:30 & 7:30, Sun at 2:30. Call for prices (children under 6 not permitted). Look for more details on their website. 615 Texas Ave (713-228-9341).
SAN ANTONIO
FIESTA DE LAS LUMINARIAS AT THE RIVER WALK This centuries-old tradition symbolically marks the "lighting of the way" for the Holy Family with more than six thousand luminaries (warmly glowing candles in sand-filled bags), which line the walkways of the river. Dec 5—21. Call for times. Free. For more information please see their website 110 Broadway (210-227-4262).
PALESTINE AND RUSK
TEXAS STATE RAILROAD This Texas treasure dates back to 1881 and is still maintained as a fully self-contained railroad system. Passengers can board the historic trains in either Rusk or Palestine and take a 25-mile trip to the other town, arriving an hour and a half later. You can disembark to enjoy lunch, shop, or take a nature hike before you board for the return trip home. Thru Dec 27: The Polar Express Train Ride—don your pajamas and climb aboard the Polar Express to read along with the story as the train makes the magical trip to the North Pole as you visit with Santa, listen to carolers, and sip on hot chocolate. For schedule and prices, call 888-987-2461 or see their website. Depots located on US Hwy 84, 2 miles west of Rusk and 3 miles east of Palestine.