IHS Baseball-Ready To Run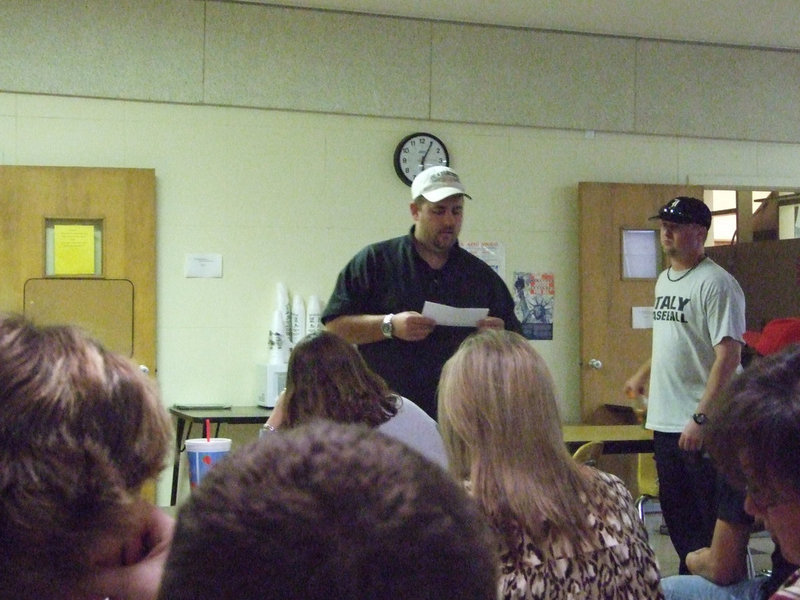 Head Coach Matt Coker and Assistant Coach Josh Ward assembled baseball parents for a meeting last Thursday night. It is the beginning of Gladiator Baseball and the coaches wanted everyone on board. "I am excited about the upcoming season and we are ready for the program," Coker explained.
Approximately 22 players, freshmen, sophomores and juniors, will be playing on the Varsity team this year. With so many students, Coker expects to have a JV team next year.
The team needs a little help purchasing a few uniforms and equipment. "We have 22 players and 18 uniforms," Coach Coker told parents. The Athletic Booster club has provided an opportunity to raise some funds by parents and friends working at the Motorplex in Ennis one day in March. Also, businesses and individuals can purchase outfield fence signs. Other fundraisers include sales of baseball jerseys, tshirts and caps, grilled hamburgers and hotdogs during the season at the concession stand. Parents will host theme nights with each home game and encourage the community to come out and support the Gladiator Baseball Team.
Anyone wanting to donate money for equipment or picnic tables for the ball park, are encouraged to call Clover Stiles at 972-483-6260 or contact Becky Milligan about outfield fence signs by calling 972-998-9420. Stiles said, "If anyone would like to donate services from businesses, that would be appreciated too."
The first game has been rescheduled to March 3 against Wortham at home.
Check the Community Calendar on the Italy Neotribune for game times.