Gladiators Take On Faith Family Eagles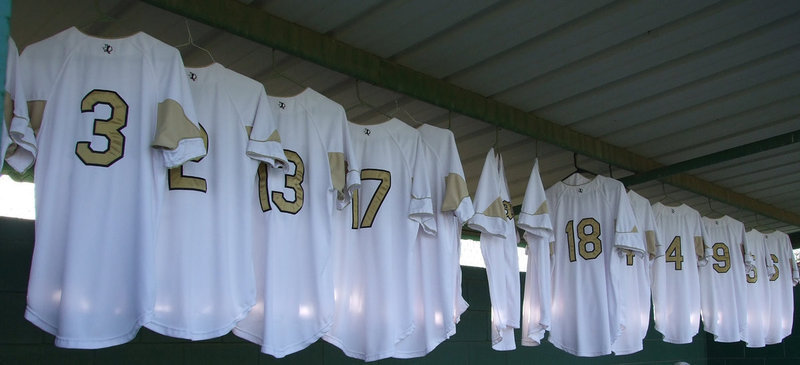 With three wins under their belt, the Gladiators performed something they have not done in previous seasons. Evidence was clear the boys were taking their fourth win against the Faith Family Oak Cliff Eagles early in the game.
With a final score of 30-2, the Gladiators celebrated the win like champions and shared grilled hamburgers with the war torn Eagles after the game. Each player was just another guy playing baseball for the love of the game-no different than the other.
Colten Campbell began pitching the game until the top of the 4th inning when Jasenio Anderson finished the deal. The Eagles changed pitchers three times but to no avail. The Gladiators still are undefeated.
Coach Matt Coker commented about the game, "We had a great effort from Matt Brummett, Ivan Roldan, Justin Buchanan, Jasenio Anderson, Colton Campbell, Kyle Wilkins, Taz Martinez, Brandon Souder, Justin Hayes, Ryan Ashcraft, Desmond Anderson, and Alex DeMoss. I just want to commend Oak Cliff Faith Family for their effort. Some of their kids are playing baseball for the first time in their life. Their kids had a great attitude and I told them to keep their heads up. They never gave up until the last out of the game. I wish we could have called the game earlier, but our kids got to work on some things that we needed to work on. Coach Allen told me that he appreciated the class our team and our town had towards his team. He knew that we were not trying to run up the score."
"We have a big game coming up against Frost. Both teams come into the game undefeated in district. I told our kids that we need to stay focused and humble. I asked the kids, do you like winning? They said yes, and I told them to continue our winning streak, we would have to be ready to answer the bell everyday in practice and in games to do that. We are trying to get a mindset in this program that every game we play, we expect to win. Hopefully the weather will cooperate enough that we can get our Frost game in on Friday."
Next game is scheduled in Frost on Friday, March 27 beginning at 5:00. Keep checking for updates to see if the game is rescheduled due to rain.