Polar Bears Feel Right At Home In Italy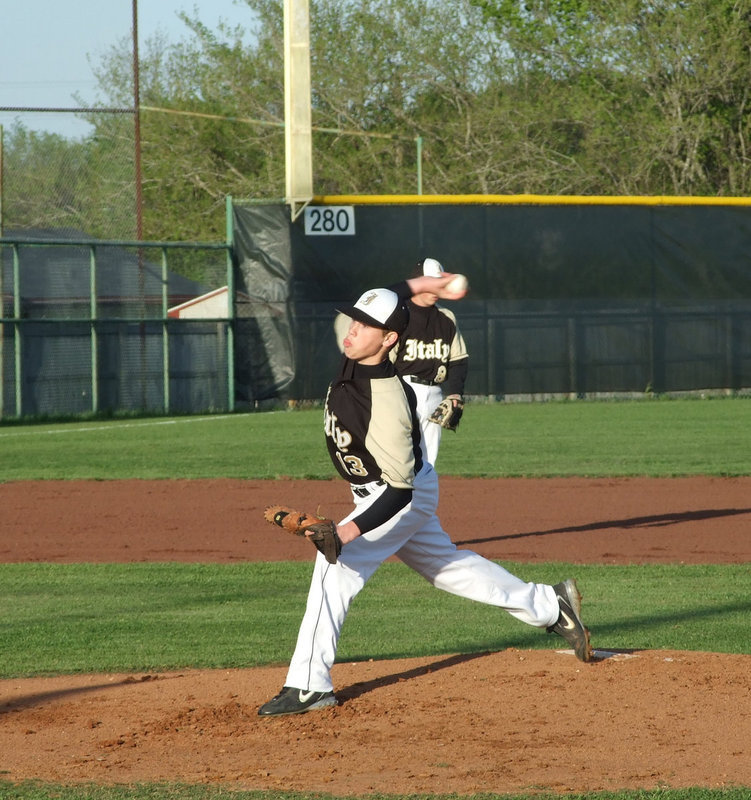 The Gladiators took on the Frost Polar Bears Friday night, both coming to the competition undefeated. After 8 frosty innings, the winner left standing was Frost 4, Italy 2.
It could have easily been the coldest day of the baseball season with northerly wind gusts up to 35mph and a wind chill in the 20's, but that did not stop the fans from coming to the Italy ball game on Friday night. They brought their blankets and their woolen caps and set in for the long haul, braved the cold and and even had fun with the music stylings of DJ, Clover Stiles. The music included Deep In The Heart of Texas, Bad To The Bone and, of course, YMCA.
Coach Matt Coker and Assistant Coach Josh Ward pushed the varsity team to their limits and, for the most part, it looked like both teams were equally yoked until the third inning when Frost took the lead in the score 1-0. A turn of events came about and Italy's Ethan Simon hit a line drive deep into left field in bottom of the 4th. He brought two runs in and evened the score 2-2. Frost's defense was as strong as Italy's and the offense was streamlined with a senior pitcher named Sam Stroder. He was relentless throwing his fast balls and our boys took the challenge but with a few errors and one major player interference, the Bears took this win home.
Freshman, Justin Buchanan, began the game and stayed until top of the 8th when Sophomore, Jasenio Anderson, relieved the very chilly pitcher.
Coach Coker said, "I am very proud of my boys. They competed until the last out. Even though they were up 2-1, Italy tried and nobody got down. They were only positive to each other and they listened. Justin Buchanan pitched his tail end off and I am proud of all my boys. This is only one bump in the road and we can pick it up from here and be ready to play Avalon next week. I do want to tip my cap to Frost. They have a great pitcher and a good ball club."
The Gladiators will travel to Avalon on Tuesday, March 31. The game begins at 5:00. You need to come see these boys play!